Analysis
Smart Water Management (SWM) makes use of Information and Communication Technology (ICT), real-time data and response to meet the challenges of water management. SWM is becoming a topic of interest as governments from across the globe incorporate are trying to implement smart principles into urban, national and regional SMW strategies. The application of smart systems in the water management includes solutions for the water quality, leaks, efficient irrigation, pressure, water quantity, flow, floods, and drought, among others. Implementation of SWM infrastructure which includes GIS and satellite mapping, sensors, monitors, smart meters and other data sharing tools for the management of water, real-time solutions may be implemented and broad networks work together in order to solve the current challenges of water management.
Water is a vital element; water-related issues at the global level include issues such as uneven distribution and shortage in supply. Usage of water in harmony with nature and the water cycle and reduced greenhouse gas emissions associated with the water treatment are major concerns. Smart Water Grids (SWG) technology is the promising solution to resolve critical water-related problems. It is used for maintaining the water quantity, safety of water quality, and ICT-based water management solutions. Smart water grids used in water management platforms integrate with ICT into a single water management solution. Such factors are expected to drive smart water management market growth over the forecast period.
Based on product, the smart water management market is segmented into meter read technology, advanced water meters, and cellular network. Advanced water meters is further divided into Automated Metering Reading (AMR) and Advanced Metering Infrastructure (AMI). On the basis of solution, the market is segmented into residential water efficiency, data management system, advanced pressure management, SCADA systems, and advanced analytics.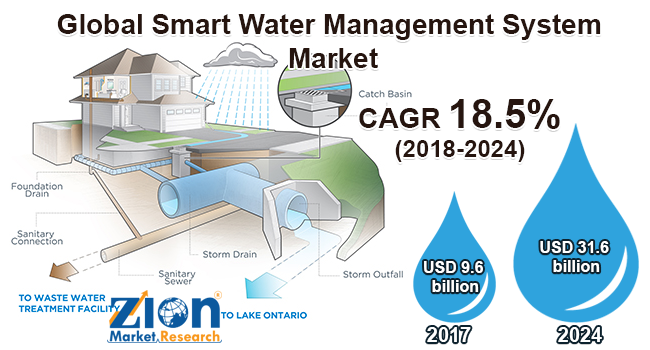 North America smart water management market accounted for major revenue share in 2017 and it is expected to retain its position over the forecast period. Increasing need for sustainable energy solution coupled with stringent government regulations is anticipated to propel demand for smart water management in the region. Clean Water Act (CWA), Safe Drinking Water Act (SDWA), and wastewater discharge regulations are influencing several companies to examine the manufacturing process. Moreover, municipal and other facilities in the U.S. require permission for addressing water pollution under the National Pollutant Discharge Elimination System (NPDES) program. Europe contributed significant revenue share in smart water management market owing to the technological advancement and healthy economy. Asia Pacific is the fastest growing market in the smart water management due to smart city development projects in the region.
Some of the industry players operating in smart water management market include Aclara, Mueller, Neptune Technology Group, Arad Technologies/Master Meter, Sensus, Airborne Underwater Geophysical Signals, Schneider Electric, Global Water Resources, Cambrian Innovation, Arcadis, and Oracle. Industry players are mostly focusing on developing innovative products and services to gain revenue share.