Analysis
The global demand for smart manufacturing market is expected to grow from USD 202.82 billion in 2017, and is expected to reach approximately USD 479.01 billion in 2023, growing at a CAGR of slightly above 15.4% between 2018 and 2023.
Over the past several years, smart manufacturing has been a topic of conversation among the global manufacturing experts, leaders and strategists. Smart manufacturing is a technology-driven approach that utilizes internet-connected machinery to monitor the production process in real time. Smart manufacturing is expected to bring next industrial revolution in the global manufacturing sector. The continuously increasing investments in production activities, expanding mindfulness about advance and better production technologies, and the need for upgradation & modernization of control systems has become necessary to compete at international standards. All these factors are fuelling the adoption of smart manufacturing technology. Using smart manufacturing technologies companies are increasing the efficiency of their manufacturing plants and production process through the use of real time data and digital technologies.
The global manufacturing sector has been tormented by several factors including uncertainties in the supply of raw materials, rising operational costs, intense competition by local players and many others. As a result, various industry players are looking for options and ways through which they can reduce costs, improve product quality and make manufacturing more efficient. So the improved productivity and reduced cost structure of manufacturing is propelling the growth of smart manufacturing market globally. Smart manufacturing technologies have witnessed a significant growth in market as it offers ample technological solutions to small and medium sized enterprises and connected supply chains to its users. Whereas factors such as high initial cost of set up, and the probability of cyber-attacks to breach the security are hampering the growth of this market. Frequent investments by global players in the research and development activities related to smart manufacturing in order to come up with innovative products is expected to drive the growth of this market.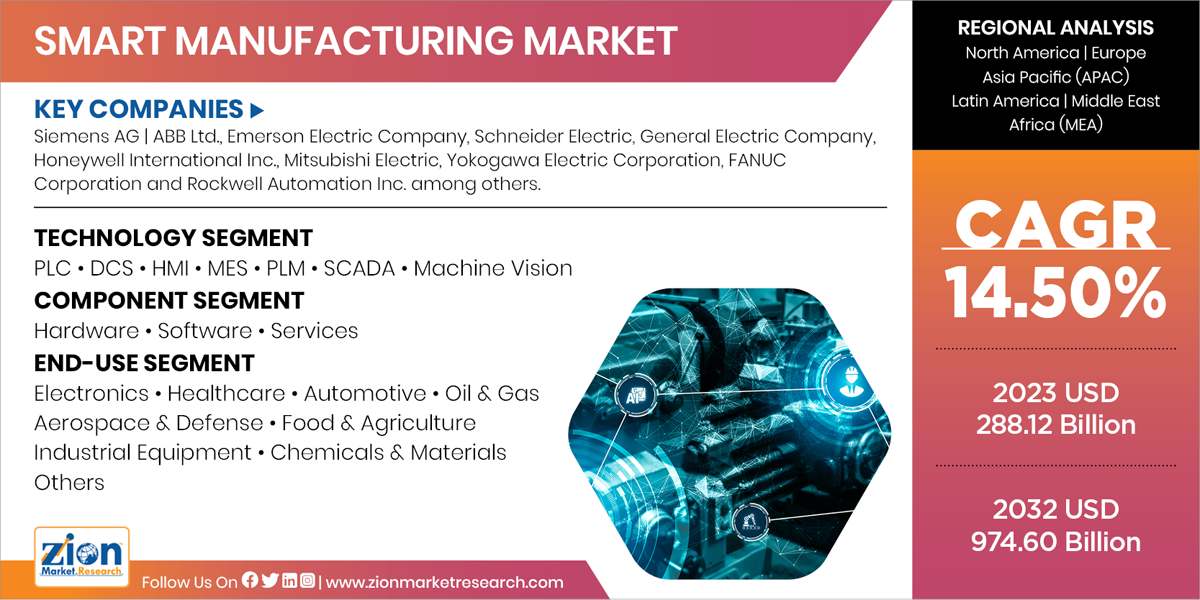 Market segmentation of smart manufacturing includes technology, component and end use. The technology segment is divided into PLC, DCS, HMI, MES, PLM, SCADA, and machine vision. The component is further divided into hardware, software and services. The end use segment is further bifurcated into electronics, healthcare, automotive, oil & gas, aerospace & defense, food & agriculture, industrial equipment, chemicals & materials and others. Regional segmentation of the smart manufacturing market include North America, Europe, Asia Pacific, Latin America and Middle East and Africa with further country wise bifurcation into major countries such as U.S., UK, France, Germany, China, Japan, India and Brazil.
The major players operating in the global smart manufacturing market are Siemens AG, ABB Ltd., Emerson Electric Company, Schneider Electric, General Electric Company, Honeywell International Inc., Mitsubishi Electric, Yokogawa Electric Corporation, FANUC Corporation and Rockwell Automation Inc. among others.