Analysis
Smart devices are innovative evolutionary products that are essential for energy conservation worldwide. Smart lighting technology is expected to expand in the forecast period owing to the global requirement of reducing greenhouse gas emissions to create an eco-friendly environment. Nowadays, there is a drift of upgrading the existing lighting infrastructure with an efficient and smart lighting system in various sectors including residential, commercial, industrial, and government. Smart lighting technologies offer energy efficiency and energy optimization whereas control systems track the luminance level of lighting depending on various parameters including the intensity of daylight, physical presence, and infrastructure.
Consistent modernization and technologically advanced infrastructure development being carried out globally are contributing majorly to the growth of the smart lighting and control systems market. The market is poised to grow exponentially in the near future owing to the rising concerns for escalating energy bills and need for energy efficient lighting solutions. Availability of advanced features such as remote switching and monitoring, scheduled on/off and dimming capability, and wireless connectivity that includes proximity sensors, daylight sensing technology, and smartphone-based control systems are expected to bolster the smart lighting and control systems market. Rising adoption of IoT (Internet of Things) integrated with mobile smartphones to control smart lighting systems is expected to boost the sales of the product. Automated and networked intelligent lighting solutions used diversely in airports and aircraft, multinational companies, sports stadiums, automobiles, and home appliances is projected to fuel the growth of the smart lighting and control systems market in the forecast period.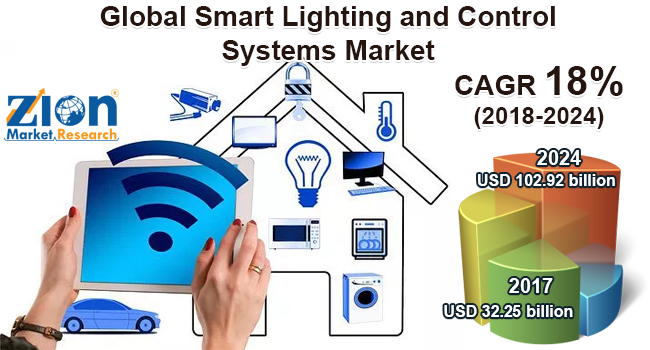 Rising concerns about the security of smart lighting systems operating on the internet of things and high initial installations and fixtures costs for these systems can hamper the growth of the smart lighting and control systems market. Government's initiatives and plans to develop smart cities and buildings that will also focus on lowering the usual resource usage of electricity are projected to offer various opportunities in the smart lighting and control systems market.
Global smart lighting and control systems market is divided based on lighting source, connectivity, end user, and region. The lighting source segment is categorized into compact fluorescent lamps, high-intensity discharge lamps (HID), and light emitting diodes (LED). The connectivity segment is further bifurcated into wired and wireless. The end user segment is categorized into residential, commercial, government sector, and industrial. Owing to a high penetration rate of mobile smartphones, wireless connectivity segment is anticipated to witness significant share in the overall market. Regional segmentation of the smart lighting and control systems market include Asia Pacific, North America, Europe, Latin America, and The Middle East and Africa.
Major players operating in the global smart lighting and control systems market are Koninklijke Philips N.V., General Electric Company, Lightwave PLC, Eaton Corporation, LiFI Labs, Inc., Elgato Systems, Honeywell International, Inc., Belkin International, Inc., Lutron Electronics Company, Inc., and Acuity Brands Lighting, Inc., among others. Recently, Philips collaborated with ABB to promote smart homes in China that will involve the seamless integration of Philips Hue connected lighting system for the home with ABB's i-Jia home automation system.