Free Analysis
A smart grid is an electric grid consisting of circuits and circuitry boards that provide a diverse range of energy and operational features including smart meters, smart appliances, energy efficient energy resources, and renewable energy resources. Smart grid was first implemented and tested in Europe and was known as a smart grid energy technology platform. Earlier, the first alternating current and electric grid were established at London in 1886. In a smart grid system, the digital technology enables in establishing a communication line between the customers and the utility core. Furthermore, the sensing and processing are followed after the message transmission along the transmission lines. This procedure makes the grid smart. A smart grid also consists of computers, advanced controls with new technologies, automation, and gears to function effectively. Additionally, a smart grid system was implemented to overcome the disadvantage of traditional and conventional electric grids that consumed more energy.
Smart grid market is experiencing a high rate of growth in developed and developing countries. To save energy followed by its efficient use is the primary factor boosting this market's growth. Moreover, the growing need to digitalize energy and power sectors and the huge need to develop electric grid infrastructures are likely to positively impact this market. Additionally, to support the growing needs of energy, the smart grid system, and its infrastructure is required. Small- and medium-sized enterprises are desperately trying to change their business models, i.e., from volume-based business to service-based business models, to effectively and efficiently utilize energy. These factors are projected to contribute notably toward the smart grid market growth over the forecast time period. However, the lack of implementation standards might limit the smart grid market.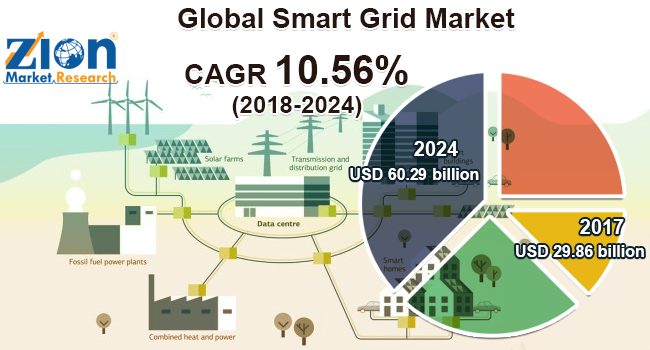 By technology, the smart grid market is segmented into advanced metering infrastructure, distribution automation, software and hardware, communication services, cybersecurity, and transmission upgrades. By service, this market includes consulting, deployment and integration, and support and maintenance.
North America is growing significantly in the global smart grid market and is foreseen to continue its dominance over the forecast time period. The growing number of natural disasters including unplanned power outages, storms, rains, and others is going to boost smart grid market growth in the region. Moreover, government initiatives in the U.S. for planned energy consumption are likely to further drive the industry growth in this region in the future. The Asia Pacific is predicted to provide significant growth opportunities for the smart grid market in the years ahead, due to the ongoing smart home, smart building, and smart infrastructure construction activities. Additionally, the enforcement of stringent government laws for reducing carbon emissions and air pollution is likely to drive the Asia Pacific smart grid market over the forecast timeframe.
Some industry players operating in the global smart grid market include Siemens, ABB, General Electric, Itron, Schneider Electric, Belden, Honeywell, Hubbell, Landis+Gyr, Oracle, Cisco, Fujitsu General, IBM, and Wipro.