Analysis
Smart antennas are also referred to as digital antenna arrays, multiple antennas, adaptive array antennas, and MIMO. It is a digital wireless communications antenna system that benefits from the diversity effect at the destination (receiver), source (transmitter), or jointly. This effect includes transmission and reception of manifold radio frequency (RF) waves to enhance the data speed and shrink the error rate.
The globally thriving standards of living in combination with the latest technological enhancements are driving the smart antenna market. This has instantaneously led to the dependency on high-speed data for numerous necessities for M2M and integrated network communication. This has escalated the demand for smart antenna, as it improves the performance of next-generation wireless communication systems. Thus, to handle the advanced technological requirements of next-generation networking, the demand for smart antenna is accelerating tremendously globally. The rising popularity of smartphones is fuelling the demand for smart antenna market globally. Smartphones have become an alternative to personal digital assistants (PDAs) and laptops, offering features like voice messages, SMS, various internet applications, multimedia functionalities, in-built GPS capabilities, and high processing capabilities. Investments and technological advancements are increasing smartphones demand globally. The growing requirement for fast data transmission and high-speed data for web browsing and downloading will continue to drive the smart antenna market in the years ahead. However, the lack of communication infrastructure in developing countries and high manufacturing and installation expenses involved in the research & development of smart antenna may limit the smart antenna market to some extent.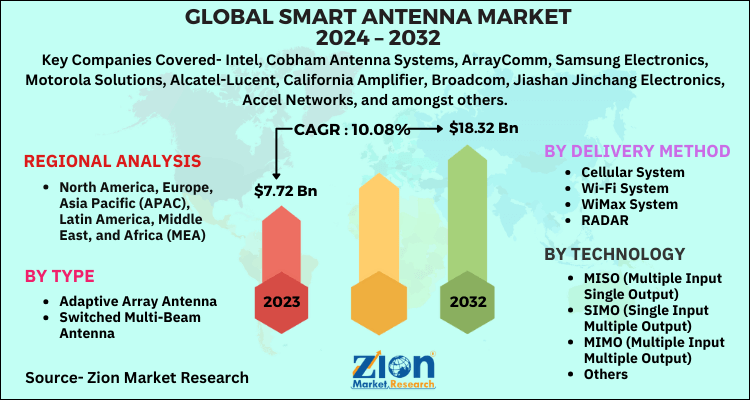 The smart antenna market is categorized on the basis of type, technology, and application. The application segment is classified into Wi-Fi system, RADAR, cellular system, Wi-Max system, and others. Owing to the large-scale infrastructural development of Wi-MAX systems, the Wi-MAX system segment will propel over the forecast period. These systems enable the management of mobile and fixed communication devices by giving more flexibility to their operators. Moreover, these systems are useful in narrow beam operation as they reduce interference. Wi-Fi systems will witness considerable growth over the upcoming years, owing to the increasing use of wireless networks and smart devices worldwide.
North America will hold a significant share in the smart antenna market globally in the future, owing to the presence of leading market players and rising regional demand for smart antennas. Market players are taking efforts to introduce smart antennas with numerous advanced technologies, which will further contribute to this regional market over the projected period.
Some noticeable players of the smart antenna market are Intel, Cobham Antenna Systems, ArrayComm, Samsung Electronics, Motorola Solutions, Alcatel-Lucent, California Amplifier, Broadcom, Jiashan Jinchang Electronics, and Accel Networks.