Analysis
The signaling device is an alarm in the form of sound or visual signal depending on the device. Signaling devices are made up of a trigger, control panel etc. These devices make people aware of the intrusion easily and take corrective measures. Bell, buzzer, device, foghorn, whistle are some signaling devices used in day to day life. These devices are configured and positioned at the places from where a signal will easily pass. The audio signaling devices contain electronic tone generator which can produce different tones and gives different signals. Signaling devices can be in the form of audio or visual type depending on the signaling devices.
The signaling devices market is primarily driven by need to increase safety measures of any industry. In addition, increasing investments for infrastructure development across the globe forces the signaling devices market to grow exponentially. Furthermore, increasing incidence of crime increases the demand for security alarm and other security devices. However, high maintenance cost is a major restraint for global signaling devices market which may hamper the growth of the market. Nonetheless, emerging manufacturing markets in developing countries such as China and India are likely to open new opportunities for major participants involved in signaling devices market.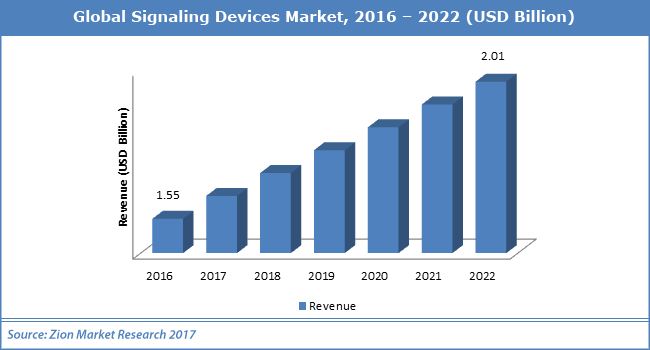 The global signaling devices market is segmented into product, connectivity services, applications, and regions. Based on product, the global signaling devices market is segmented into strobe beacons, lighting, bells and horns, fire alarms/call points, speakers and tone generators, visual and audible combination units, video surveillance systems, and intercoms. A strobe beacon was the largest product segment of the market in 2016.
Moreover, strobe beacon segment is expected to be the fastest growing segment over the years on account of increasing demand of ambulance and automotive industry.. The connectivity service segment includes the wired and wireless services from which wireless service is likely to be the largest segment in future.
The key application of global signaling devices market includes oil and gas, chemical and pharmaceutical, food and beverages, energy and power, mining and others. Oil and gas segment will dominate the global signaling devices market in the forecast period.
North America dominated the global market for signaling devices in 2016. North America was followed by Europe for the same year. In addition, Asia Pacific is fastest growing region for signaling devices market due to growing urbanization in region. Furthermore, the Middle East and Africa along with Latin America is likely to witness the significant growth within the forecast period.
Some of the key players in the global signaling devices market include Siemens AG, Honeywell International, Inc., ABB Ltd., Rockwell Automation, Inc., Eaton Corporation PLC (Cooper Industries), Emerson Electric Co., Patlite Corporation, R. Stahl AG, E2S Warning Signals, NHP Electrical Engineering Products Pty Ltd., Federal Signal Corporation and Tomar Electronics, Inc.