Free Analysis
A scar is formed on the surface of the skin after any damage or injury, which can be removed by applying a variety of medical technologies from invasive surgical treatment to non-invasive laser treatment or some topical medications. Most scars are the result of body's own healing mechanism, however, smaller scars can be healed on its own if given time. Any type of invasive surgical procedures, injury, and burn gives rise to the scar on the skin of varying degrees. The treatment is dependent on the scar shape, size, appearance and degree of growth underneath the skin. A research study showed per year around 200 million patients develop scars around the world and this increasing number along with rising trend of accidents and surgical procedures positively influence the scar treatment market.
Increasing number of incidents such as road accidents, domestic abuse leading to injuries and deformities are some of the drivers for scars treatment market. Also, the surge in a number of burn victims is boosting the industry growth along with growing incidence of skin disorders such as acne and technological advancements in scar treatment. The high cost of scar treatment such as lasers may confine the industry growth. Also, risks associated with treatment such as bleeding, infection, and reoccurrence may hinder market growth.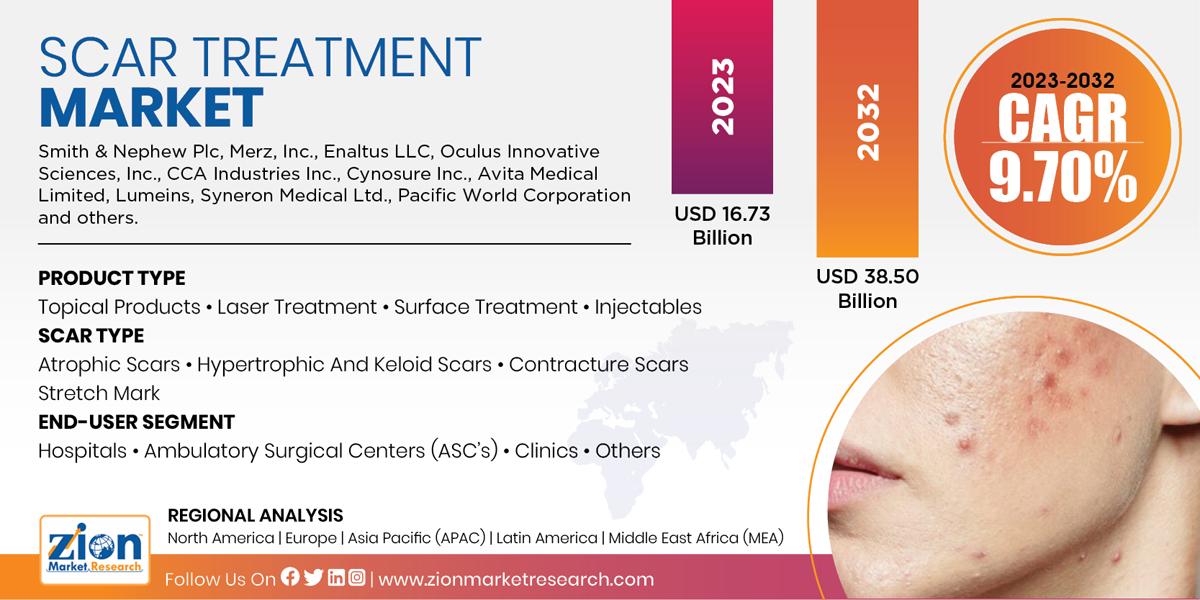 Based on product type the market is segmented into topical products, laser treatment, surface treatment, and injectables. On the basis of scar type the market is segmented into atrophic scars, hypertrophic and keloid scars, contracture scars, stretch marks. Based on end users the market is segmented into hospitals, ASC's, clinics and others category.
North America held a dominant share of the scars treatment market due to easy availability of technologically advanced products with the capability of fading apparent scars. The growing geriatric population and rising consciousness about appearance among consumers are also aiding the expansion of the scar treatment market in this region. Increasing expenditure on personal grooming also has been boosting the U.S. scar treatment market. Asia-Pacific is projected to grow at a significant CAGR, due to rising geriatric population, growing demand for advanced products, and increasing unmet medical needs.
Some of the key players in the scar treatment market are Smith & Nephew Plc, Merz, Inc., Enaltus LLC, Oculus Innovative Sciences, Inc., CCA Industries Inc., Cynosure Inc., Avita Medical Limited, Lumeins, Syneron Medical Ltd., and Pacific World Corporation. Currently, the market's growth rate is very high, which has encouraged the leading players to focus on consolidation through product licensing and long-term partnerships in order to gain maximum share in the market.