Analysis
A vaccine is a biological product that offers active attained immunity against a specific disease. A recombinant vaccine is manufactured via recombinant DNA (rDNA) technology. This includes introducing the DNA (Deoxyribonucleic Acid) encoding an antigen, which encourages an immune reaction into mammalian or bacterial cells, by articulating the antigen in these cells and then refining it from them.
The safe to use nature of recombinant vaccines, high investments by recombinant vaccine manufacturers for novel products' development, rising government initiatives to boost the recombinant vaccines usage, increasing augmented and viable healthcare demand, simplified applications of recombinant vaccines, and growing accessibility of recombinant vaccines via conventional supply chains, escalating number of regulatory authorizations, and growing infectious diseases occurrence are driving the recombinant vaccines market globally. The rising awareness regarding recombinant vaccines benefits in developing regions, increasing per capita healthcare expenditure, growing demand for veterinary recombinant vaccines, and ongoing technological improvements in recombinant vaccines will create additional opportunities for the recombinant vaccines market in the years ahead. However, risks related to the use of attenuated vaccines, high cost of recombinant vaccines, and the lack of appropriate healthcare setup and trained physicians in developing regions will restrict the global recombinant vaccines market development.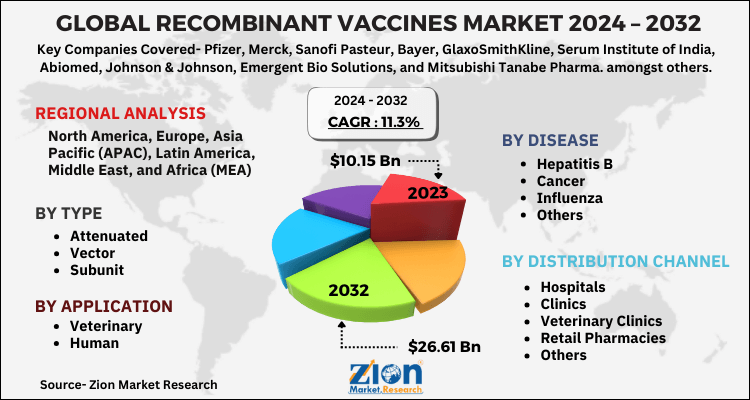 The recombinant vaccines market is split based on type, application, disease, and distribution channel. Based on type, the recombinant vaccines market includes attenuated, vector, and subunit. The subunit segment accounted for the highest market share in 2018. The application segment includes veterinary and human. The human segment accounted for the highest market share in 2018. The disease segment comprises hepatitis B, cancer, influenza, and others. The hepatitis B segment is expected to register the highest CAGR over the estimated time period. The distribution channel segment is fragmented into hospitals, clinics, veterinary clinics, retail pharmacies, and others.
North America will lead the global recombinant vaccines market in the future, owing to rising developments in the field of genetic engineering and molecular biology, increasing transmittable diseases prevalence, huge research and development expenditure by major manufacturers, high vaccination rate, and rapid uptake of techniques like rDNA technology. Europe will hold the second spot in this global market, due to the presence of latest treatment facilities, high healthcare expenditure, rising infectious disorders incidences, escalating cancer rate, and growing availability of latest healthcare infrastructure. The Asia Pacific will grow rapidly over the forecast period, owing to the rising government initiatives governments to increase vaccination rate, an enormous patient pool, increasing investments by domestic and global manufacturers, escalating need for large quantities of vaccines, and ongoing R&D.
Some key players of the global recombinant vaccines market are Pfizer, Merck, Sanofi Pasteur, Bayer, GlaxoSmithKline, Serum Institute of India, Abiomed, Johnson & Johnson, Emergent Bio Solutions, and Mitsubishi Tanabe Pharma.