Free Analysis
Radars are detection devices that work on radio waves to decide the angle, range, or speed of an object. They can detect ships, plane, guided missiles, and spacecraft, and automobile, terrain and weather formations, etc. A radar system consists of a transmitter, which produces electromagnetic waves in the microwaves or radio domain, a transmitting antenna, receiving antenna (the identical antenna is used for transmitting and receiving), and a processor and receiver to verify properties of the objects.
The drivers of the global radar security market include the adoption of numerous advanced technologies by various enterprises like phased array systems, which are installed mainly for ground surveillance radar due to their numerous applications in airport and military. The rising number of security concerns is also driving the radar security market globally. The radar security has numerous advantages not only for security but also for surveillance application, which includes airport premises protection, perimeter surveillance, high-definition for sea surface surveillance, short range for air surveillance for ship navigation, and helicopter control. Moreover, low defense budget in developing economies and shift to automation and miniaturization of defense and surveillance system, growing assistance and safety features globally are anticipated to further escalate the global radar security system growth. However, the rising number of cyber warfare may hinder this market's development.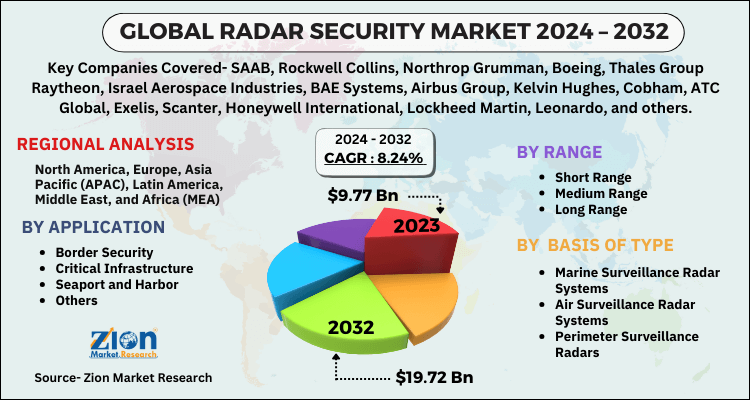 The type segment of the market includes marine surveillance radar system, air surveillance radar system, and perimeter surveillance radars. By range, the market includes long, medium, and short. The long-range segment is expected to grow substantially over the projected time period, owing to the increasing demand for ground security radar with long-distance range radar in border/coast guards, army, and security applications. By application, the radar security market includes critical infrastructure, border security, seaport and harbor, and others.
By region, North America is projected to grow substantially in the global radar security market, owing to the modernization in the US and Canada along with replenishment programs and rising concerns for security. In addition, the rising use of radars to locate and inspect hostile targets in commercial aviation and military actions is also anticipated to drive the North American radar security market in the future.
Some prominent players in the global radar security market players are SAAB, Rockwell Collins, Northrop Grumman, Boeing, Thales Group Raytheon, Israel Aerospace Industries, BAE Systems, Airbus Group, Kelvin Hughes, Cobham, ATC Global, Exelis, Scanter, Honeywell International, Lockheed Martin, and Leonardo.