Free Analysis
Platform as a Service has achieved widespread popularity amongst agile application development crews who wants to start their products into the cloud. PaaS hosting is a competitive market with providers taking efforts to present larger benefits over their competition to gain competitive advantage. PaaS is cloud model intended for software developers that streamline the development process by transferring particular facets of systems management to the service provider. There are numerous types of PaaS available such as private, public and hybrid.
High scalability, efficiency, agility, and pay-per-use features offered by the public PaaS model is the key aspect for the large adoption of public cloud PaaS. These features attract small, medium as well as large enterprises to shift their preference towards PaaS solutions. Different services of public cloud platform-as-a-service market include cloud application platforms, cloud integration services, cloud data services, cloud application development & lifecycle services and other cloud platform services. Application platform as a service (aPaaS) is cloud service that provides deployment and development environments for different application services. An aPaaS is PaaS developed to allow runtime management, deployment, and maintenance of cloud business application services.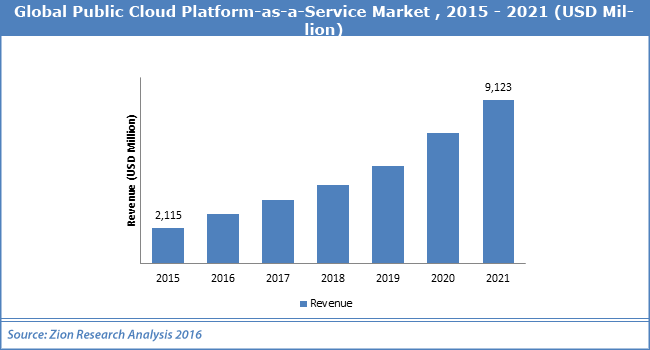 Other types of PaaS includes cloud business process management (BPM) PaaS, cloud horizontal portal services, cloud business analytics PaaS (baPaaS), cloud application governance PaaS, cloud MFT services etc. The largest segments within the public cloud PaaS market was cloud application platform services (aPaaS), accounted for around 34.0% of total PaaS market in 2015.
In spite of ongoing economic uncertainties, mature economies which are established IT markets, such as the Western Europe, U.S., and Japan are on the forefront of the adoption of PaaS technology. All mature economies have combined share of approximately 90% of global PaaS spending. At present emerging markets are marginally investing in PaaS, however, this trend is anticipated to change as PaaS matures as a technology and the market player landscape consolidates about few mainstream providers that have the ability to service wider geographies.
OutSystems, IBM Bluemix, Heroku, Mendix, Salesforce, and Acquia are some of the commercial public cloud PaaS providers. Some of the well-established players in this market include Engine Yard, Google Inc, IBM, Oracle, Salesforce, Microsoft Corporation and Amazon Web Services, Inc.