Free Analysis
Product information management (PIM) is a business applications category that manages product information for its usage across an entire organization, i.e., from supply chain to commerce to customers. A PIM solution provides a one-stop solution to collect, manage, and enrich product information, create product catalogs, and distribute information to sales and e-commerce channels. Information technology has become an essential part of almost all organizations globally. Product information management facilitates easy access to the information and helps in strategic data storage techniques while maintaining data quality. Linking and indexing reduce the time required to complete various tasks related to data storage along with increasing the operational efficiency. Moreover, PIM helps in the display of products to achieve a unified customer view and client centricity. It also provides a centralized system to improve the efficiency of promotional activities. Additionally, all the distribution channels are managed effectively via product information management solutions.
Digitization has increased the speed and volumes of data, which has created the need for additional levels of data security and storage. PIM provides organizations with a centralized system to improve the effectiveness of their promotional activities along with efficiently managing their various distribution channels. The integration of business intelligence and big data analytics cloud storage is generating new growth opportunities for the product information management market. PIM also ensures that quality data and strategic techniques help facilitate easy and quick access to the required information. However, data inaccuracy, lack of awareness and expertise about PIM, and data security concerns may hinder the product information management market growth.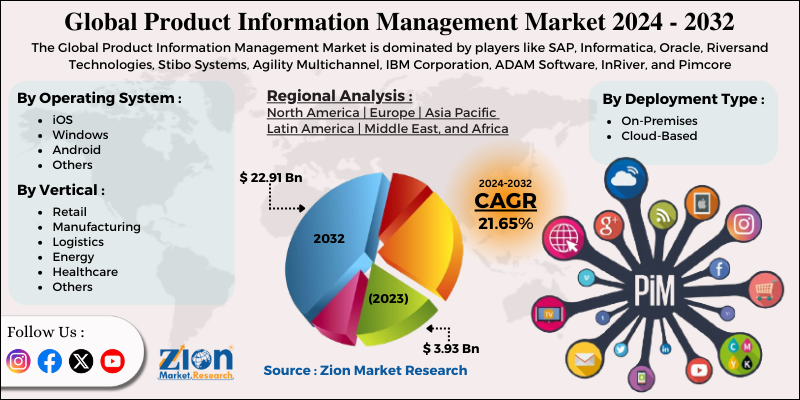 Based on deployment type, the market for product information management is divided into on-premises and cloud-based. By operating system, the product information management market is fragmented into android, iOS, windows, and others. Based on vertical, the market comprises manufacturing, retail, logistics, healthcare, energy, and others.
North America dominated the global product information management market in 2018, due to excellent and supportive healthcare coverage and advancements in technology. The U.S. leads the market for product information management in North America, owing to the growing demand for reference and centralized master data and gain meaningful insights from this master data. The Asia Pacific product information management market is likely to register the highest CAGR. This can be attributed to the emergence of countries like China, Singapore, and India as preferred destinations for faster adoption of multi-domain product information management software, which offers better services in terms of performance, quality, and capacity.
Some leading players operating in the global product information management market are SAP, Informatica, Oracle, Riversand Technologies, Stibo Systems, Agility Multichannel, IBM Corporation, ADAM Software, InRiver, and Pimcore.