Analysis
Produced water can be termed as the water generated along with oil and gas as a by-product. The produced water generally tends to be in the gaseous or liquid state. This water is a mixture of organic and inorganic compounds that are produced from the oil and gas wells. Due to its acidic nature, the produced water needs to be treated before reinjection into water bodies. The produced water's acidic nature is due to the presence of various chemical compounds, such as benzene, ethyl-benzene, toluene, xylene, and poly-aromatic hydrocarbons. The treated water is re-injected to escalate the yield from oil wells. Some water treatment procedures include thermal technology, membrane technology, physical separation, etc.
The produced water treatment is experiencing a high growth rate for water recycling purposes globally. Treatment methods differ according to disposal purposes. The rising demand for oil and gas industry is likely to propel the expansion of the produced water treatment market in the upcoming years. In addition, the rise in the number of land gas drilling activities is projected to further accelerate the produced water treatment market growth in the future. Furthermore, the stringent government regulations and norms regarding the ecological effect of produced water disposal and reinjection measures and formulations in the oil and gas sector are also anticipated to positively impact the produced water treatment market. However, the operational complexity involved in generating produced water might hamper the market's growth in the future.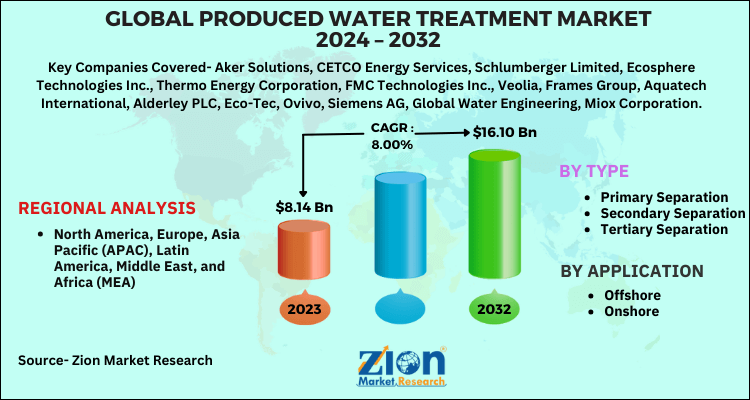 By type, the produced water treatment market includes primary separation, secondary separation, and tertiary separation. By application, this market is bifurcated into offshore and onshore.
By region, this global market includes North America, Europe, Asia Pacific, Latin America, and the Middle East and Africa. The North American region is anticipated to register the highest rate of growth in the global produced water treatment market in the upcoming years, owing to an increased number of offshore sea exploration and production activities across the region. Moreover, the emergence of the U.S. and Canada as oil and shale gas production destinations is projected to further boost this regional market. The Asia Pacific produced water treatment market is predicted to offer significant growth opportunities in the in the upcoming years, due to the rising demand for freshwater and the growing scarcity of freshwater resources.
Some major players of the produced water treatment market include Aker Solutions, CETCO Energy Services, Schlumberger Limited, Ecosphere Technologies, Inc., Thermo Energy Corporation, FMC Technologies, Inc., Veolia, Frames Group, Aquatech International, Alderley PLC, Eco-Tec, Ovivo, Siemens AG, Global Water Engineering, and Miox Corporation, among others.