Analysis
A power bank is a form of portable battery that is arranged in a circuit for the purpose of controlling any type of power in and out. This electronic device is charged with the help of a USB charger and is utilized for charging various electronic appliances, such as smartphones, tablets, etc.
The rising internet penetration rate has simultaneously increased data consumption by smartphones and energy consumption due to extensive internet use drains the battery at high rates. Worldwide increasing use of smartphones is mainly propelling the power bank market. However, continuous technological upgradations of the battery capacities of various smartphones have increased due to the integration of highly efficient chipset, which may hamper the power bank market to some extent. Governments of many developed economies in North America and Europe are planning various energy initiatives, and, consequently, the adoption of hydrogen and solar cells has increased. Thereby, the rise in the integration of energy-conserving technologies is anticipated to create lucrative opportunities for the power bank market over the forecast timeframe.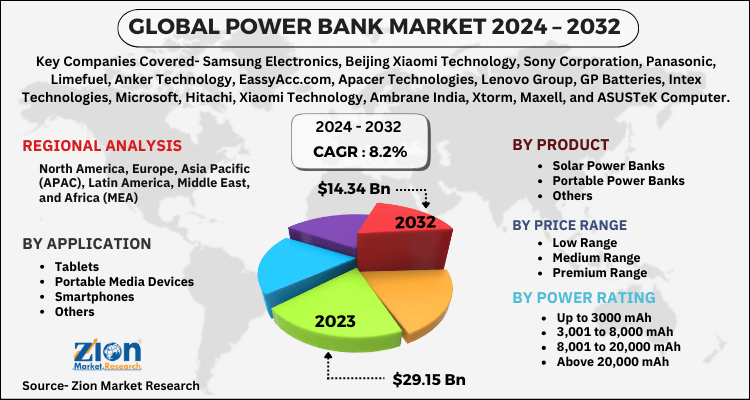 The global power bank market is fragmented on the basis of product, price range, power rating, and application. The product segment includes portable power banks, solar power banks, and others. The demand for solar power banks is forecasted to witness notable growth in the upcoming years, owing to the rising adoption of solar banks as they are powered by sunlight and do not require any electric sockets. The price range segment of the power bank market includes premium range, medium range, and low range. The medium range segment is projected to account for a notable market globally in the years ahead. Based on power rating, the market is categorized into above 20,000 mAh, 8,001 to 20,000 mAh 3,001 to 8,000 mAh, and Up to 3000 mAh. The use of power banks of up to 3000 mAh is increasing in the developing Asian economies recently. The application segment of the market is divided into tablets, portable media devices, smartphones, and others.
The North American power bank market is mainly driven by the rising use of tablets and smartphones across various industry verticals. The U.S. held the majority share of this regional market and Canada is expected to register notable growth in the years ahead.
Some key participants operating in the global power bank market are Samsung Electronics, Beijing Xiaomi Technology, Sony Corporation, Panasonic, Limefuel, Anker Technology, EassyAcc.com, Apacer Technologies, Lenovo Group, GP Batteries, Intex Technologies, Microsoft, Hitachi, Xiaomi Technology, Ambrane India, Xtorm, Maxell, and ASUSTeK Computer.