Free Analysis
Patent Foramen Ovale (PFO) is a flaw in the septum in the middle of two atrial heart chambers. PFO occurs only after birth when the foramen ovale is incapable of closing. This hole between the atrial chambers allows a minor quantity of blood to pass from right to left atria. PFO escalates the chances of heart attack, stroke, and transient ischemic attack. Specialized tests, such as an echocardiogram, bubble test, and Transesophageal echocardiogram, are performed to diagnose PFO. Some additional tests might be recommended by doctors if the PFO's presence is confirmed. A PFO closure device is used to treat PFO by performing minimally invasive surgery.
High occurrences of ischemic stroke, rising count of congenital heart diseases, growing adoption of unhealthy lifestyle habits, launching of new and improved products, and increasing clinical trials being undertaken for new devices are likely to drive the global PFO closure devices market. Increasing PFO awareness and its growing detection are projected to create opportunities for the players operating in the PFO closure devices market. However, the uncertainty due to recall and discontinuation of products might hamper the PFO closure devices market globally.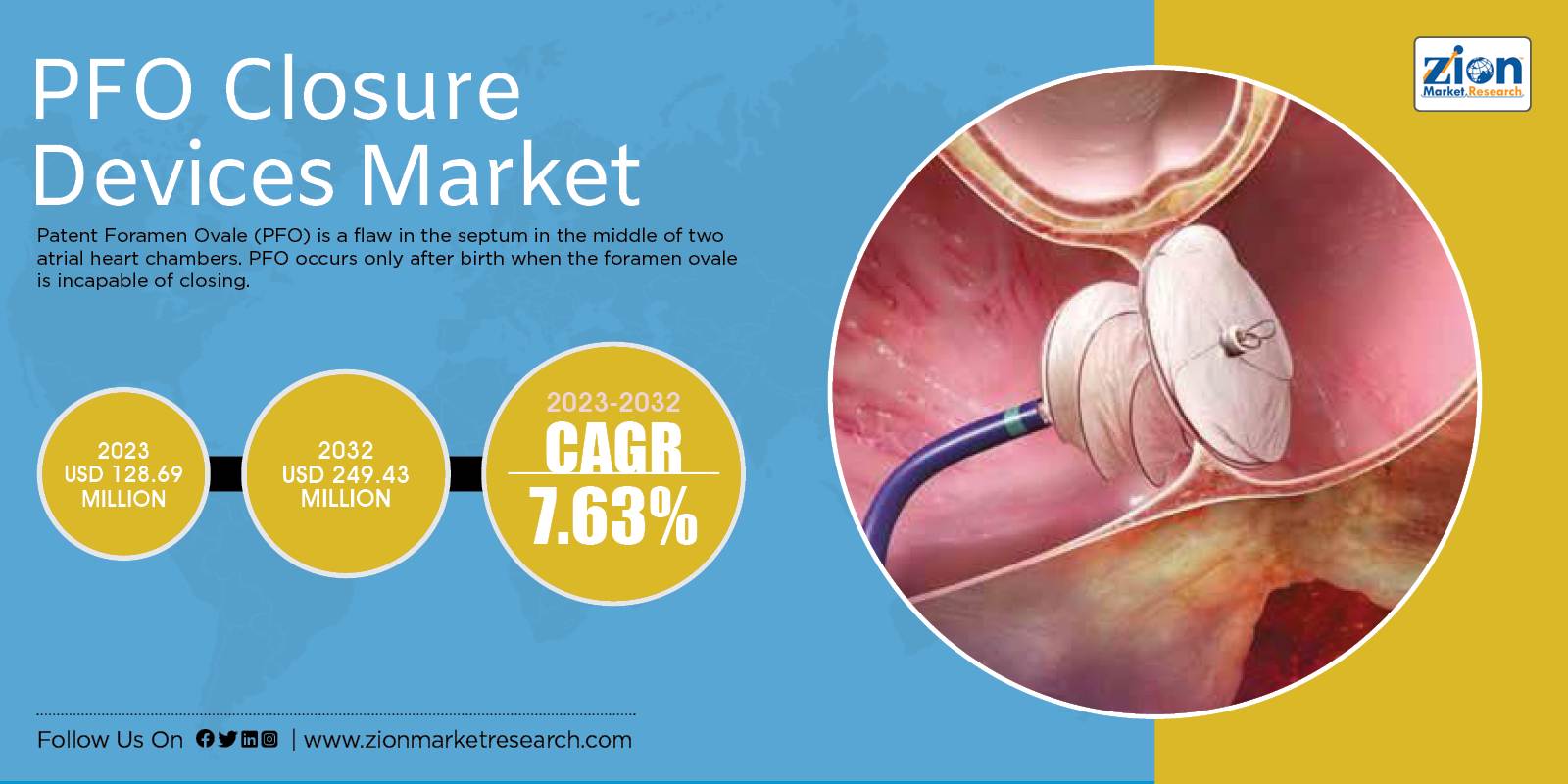 The global PFO closure devices market is segmented into the product, channel, and end-user. The product segment includes first generation and second generation PFO closure devices. The first Generation PFO closure devices held approximately 64% market, due to its cost-effectiveness as compared to the second generation PFO closure devices. By channel, this market is bifurcated into direct sales and distributor. Distributor segment held the majority market share in 2017 and is expected to grow significantly during the estimated time period. By on end-user, the PFO closure devices market includes hospitals and cardiac centers. Hospitals held approximately 75% market share in 2017.
The North American region is likely to lead during the forecast time period, due to high occurrences of ischemic stroke and the presence of leading manufacturers of PFO closure devices. Europe is anticipated to be the second largest regional market for PFO closure devices, owing to the presence of advanced healthcare infrastructure and favorable reimbursement policies. The Asia Pacific market is projected to expand rapidly in the upcoming years, due to the growing number of welfare programs undertaken by the governments. The Latin American market is anticipated to develop modestly during the estimated time period. The Middle Eastern and African countries are expected to experience perceptible growth in the future.
Some of the key players of the global PFO closure devices market include Abbott Laboratories, Lifetech Scientific Corporation, Occlutech, W. L. Gore & Associates, pfm medical ag, and Cardia, Inc., among others.