Analysis
Paints and coatings are coloring pigments that are spread over surfaces and dries by leaving a thin protective or decorative coating. Industrial coatings are mostly used for maintenance and protective applications on piping in petroleum and chemical plants, offshore equipment and oil rigs, steel bridges and structures to provide resistance against wear and tear. These kinds of coatings are known as high performance or heavy-duty coatings. It requires thicker film than decorative and architectural coatings and is in the range of 3 to 4 mm. certain resin coatings such as epoxy, polyester, and polyurethane have typical applications such as high-performance coatings for bridges, oil-rig towers, and related equipment. Other applications include airport hangars, warehouses, heavy duty floor paints, and heat resistant coatings for flares and pipes.
Industrial coatings are consumed majorly in corrosion control of concrete or steel. It covers wide applications range pertaining to diverse functions and requirements in varied sectors. Rising epoxy usage as insulating and protective primers to build satellite systems, spacecraft, aircraft, ships and other vessels will stimulate coatings demand in industrial applications. Superior epoxy strength makes it suitable to protect hydroelectric power stations structures, coat wind turbine poles and to produce its blades. Other relevant applications are pipes used for waste disposal, drinking water, and in oil & gas sector. Fire retardant coatings are even applied on industrial and commercial installations.
Paints and coatings are used in construction industry for engineering adhesives and structural parts to enhance resiliency, strength, and durability. This ensures longer life and reduced need for refurbishment & repainting. Product application in flooring helps in maintenance of high hygienic standards, as it comprises of stronger cleaning agents. Further, usage of materials on marble enhances its aesthetic appearance. Epoxies mortar or liquid paste is extensively applied to coat floors of industrial buildings, prisons, schools, hospitals and shopping malls. Rising epoxies adoption in the food industry for cans and another special packaging to preserve food flavor will foster paints and coating market growth during the forecast period.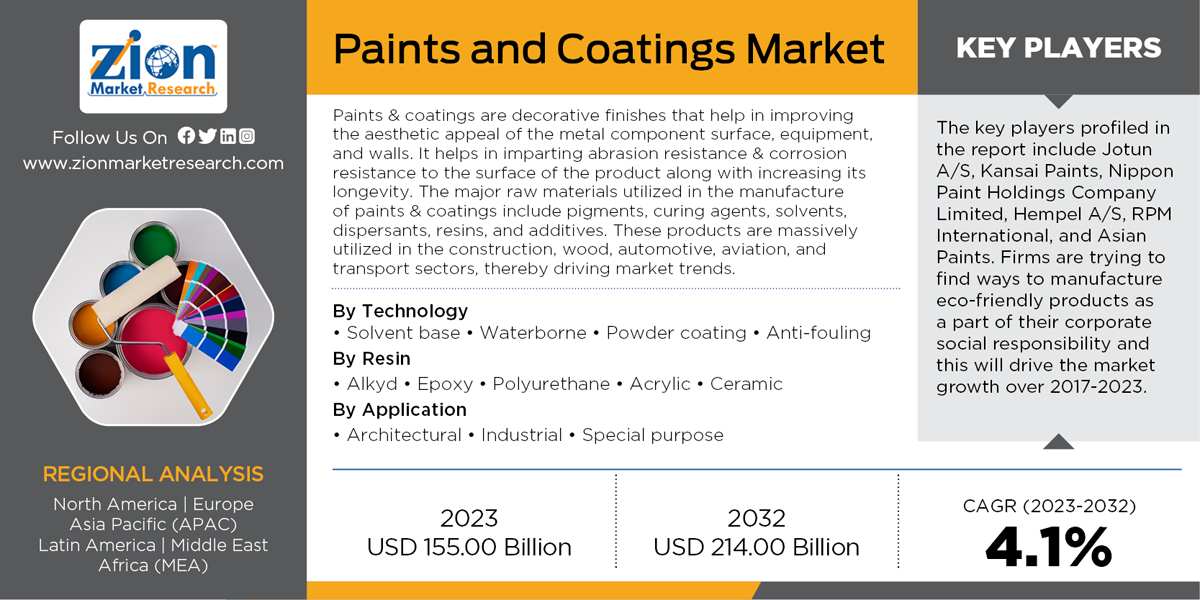 Paints and coatings market is segmented on the basis of technology as a solvent base, waterborne, powder coating, and anti-fouling. Waterborne will have a considerable market share owing to its best protection against corrosion, EPA compliant and color retention property. The market is bifurcated as per resin of the product into alkyd, epoxy, polyurethane, acrylic, intumescent, and ceramic. The intumescent coating is expected to witness a substantial growth, as it forms an impervious layer and protects steel from fire to maintain the structural integrity. Various product applications include architectural, industrial and special purpose applications. The industrial application will gain traction in the coming years due to the coating of steel structures and piping in various sectors.
Developing countries in the Asia Pacific such as India and China will contribute majorly in the growth of the region. China has increased its defense budget by 8% to USD 177 billion in 2018, that has boosted a number of military aircraft and helicopters. India's passenger aircraft fleet is expected to increase four times by 2031 to cater its increasing number of passengers. Europe packaged food industry is anticipated to increase at a growth rate of 1.9% till 2022. Usage of epoxies for packed food cans will drive the market growth in the region.
Prominent manufacturers in global paints and coatings market include Nippon Paint Holdings Co., Ltd, Hempel A/S, RPM International, Jotun A/S, Kansai Paints, Asian Paints, The Sherwin Williams Company, BASF Coatings GmbH, Axalta Coatings Systems, PPG Industries, and AkzoNobel N.V. Companies are adopting mergers & acquisitions strategies to expand their presence in the global market. For instance, Axalta had acquired Spencer Coatings in May 2017.