Analysis
Organic foods and beverages are the types of food and beverages which are manufactured using organic farming standards. This agricultural standard is regulated by the department of the government of different countries and also contains rules for the regulation of the cultivation for food and animal welfare. The use of chemical fertilizers, antibiotics, synthetic pesticides, and growth hormones are not allowed or only partly permitted in the production of organic food and beverages.
The organic food and beverages market is estimated to show a significant growth in the forecast period, because of the unique advantages of organic food and beverages such as they are chemical-free and pesticide-free, eco-friendly, and are healthier as compared to that of inorganic food. With rising awareness about health concerns and also the importance of healthy food and beverages has fueled the demand for organic food and beverages market across the globe. The increase in a number of supermarkets, retail stores, and convenience stores has also catalyzed the growth of the global organic food and beverages market as they display the products and some have allocated a different section for organic food in their outlets. Increase in disposable income level, improvement in the standard of living, growth in environmental concerns, and increase in health hazards due to inorganic foods are some of the other driving factors of this market. High price and low shelf life of the organic food and beverage is expected to hamper the growth of the market.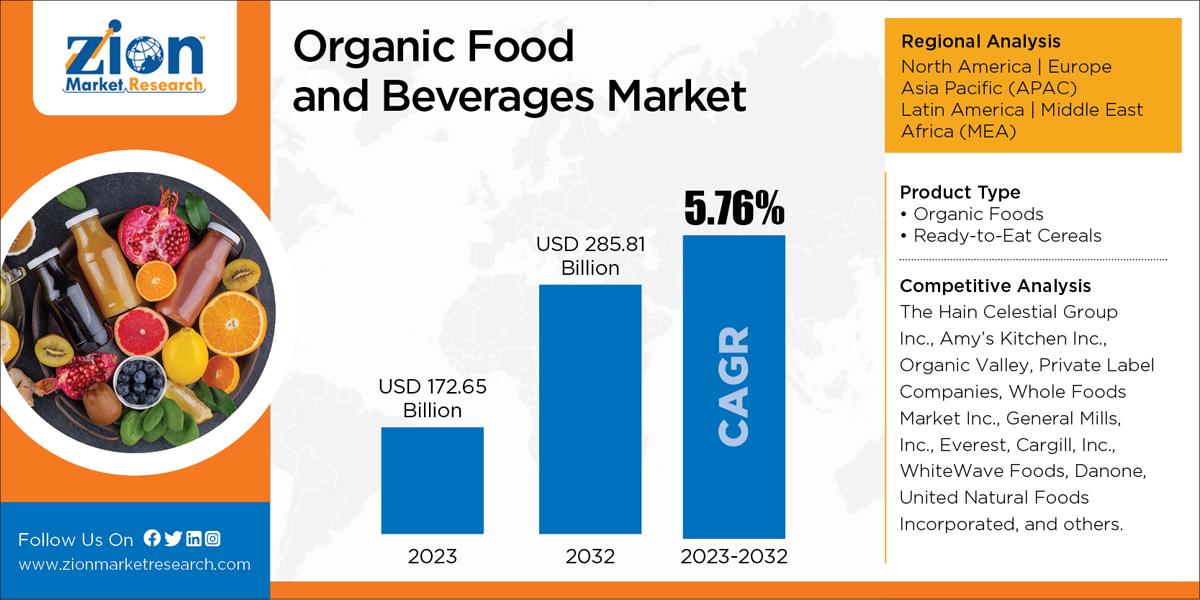 The product type segment is bifurcated into organic foods and organic beverages. Further, the organic food segment is divided into organic fruits & vegetables, organic meat, fish & poultry, organic dairy products, organic frozen & processed foods and others. In 2016, organic fruits & vegetable segment accounted for approximately 36% revenue share of the market. The popularity of organic fruit & vegetable were observed in the developed regions such as Europe and North America which has in recent times expanded to developing countries like India and China. Organic meat, fish & poultry products are expected to witness rapid growth among organic food products. Organic beverages segment is further sub-segmented into organic non-dairy products, organic coffee & tea, organic beer & wine and others. The organic beverages market is expected to grow exponentially as many people prefer organic drinks over carbonated functional beverages because of its wide-range of health benefits. Non-dairy beverages such as soy milk dominated the organic beverage segment in 2015 and this segment is expected to dominate within the forecast period. Organic coffee and tea sale are expected to witness high CAGR owing to the increasing global economic conditions and high consumption of flavored tea and coffee. Organic beer & wine segment is also expected to gain popularity within the forecast period.
North America is projected to continue its supremacy in the global organic food & beverages market, due to the unique advantages associated with the products such as they are eco-friendly and healthier as compared to inorganic food. Asia Pacific is expected to show a high CAGR because of the rising awareness about the benefits of the organic foods and beverages in the developing regions like China and India.
Some of the key players in the global organic food and beverages market are The Hain Celestial Group Inc., Amy's Kitchen Inc., Organic Valley, Private Label Companies, Whole Foods Market Inc., General Mills, Inc., Everest, Cargill, Inc., WhiteWave Foods, Danone, and United Natural Foods Incorporated. Some players are engaged in new developing products with various health benefits.