Analysis
Opioids are pain-relieving drugs that work with opioid receptors present in the human brain cell. The cell sends signals that change the perception of pain and uplifts the sense of pleasure in the body. Opioids are psychotropic substance derived from the opium poppy or developed in laboratories, such as heroin and morphine. Regular use or high dosage can create respiratory depression. The increasing number of chronic diseases, such as cancer, is one of the primary reasons for opioids overdose. According to the World Health Organization, in 2016, 65,632 people died due to overdose opioids, i.e., 21% more than the previous years. Every year, 0.65% of opioid-dependent individuals die due to opioid overdose, as per the W.H.O's.
The increasing number of orthopedic surgeries is one of the main growth drivers of the global opioid tolerance treatment market. The growing occurrences of disease related to chronic pain, such as arthritis, cancer, and back pain is also propelling the opioids tolerance treatment market globally. Additionally, the escalating rise in the number of road accidents and trauma cases along with continuously growing cases of medical procedures is also boosting the demand for opioid-based pain management treatments, which, in turn, is fuelling the global opioid tolerance treatment market growth.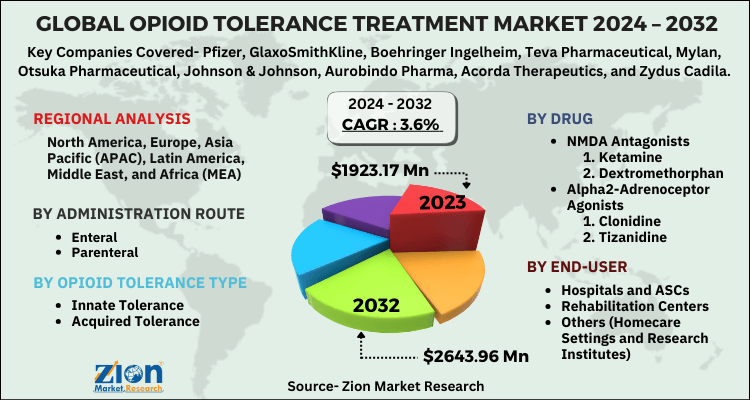 The global opioid tolerance treatment market is fragmented based on drug, administration route, opioid tolerance type, and end-user. Based on drug type, the market includes Alpha2-adrenoceptor agonists, NMDA antagonists, and others. The Alpha2-adrenoceptor agonists are further segmented into Clonidine, Tizanidine, and others. The NMDA antagonists segment is further divided into Dextromethorphan, Ketamine, and others. On the basis of opioid tolerance type, the global opioid tolerance treatment market is categorized into acquired tolerance and innate tolerance. By administration route, the market includes enteral and parenteral. By end-user, the global market comprises hospitals and ASCs, rehabilitation centers, and others.
The Asia Pacific region is expected to register a high growth rate in the global opioid tolerance treatment market, in terms of market share, over the estimated timeframe. North America accounted for the largest share of the global opioid tolerance treatment market in 2018, owing to the high prevalence of chronic diseases and pain associated with such diseases along with the increasing aging regional population, as geriatric people are more susceptible to pain and requires a high dose of opioids for pain relief.
Some major players operating in the global opioid tolerance treatment market are Pfizer, GlaxoSmithKline, Boehringer Ingelheim, Teva Pharmaceutical, Mylan, Otsuka Pharmaceutical, Johnson & Johnson, Aurobindo Pharma, Acorda Therapeutics, and Zydus Cadila.