Analysis
PACS stands for picture archiving and communication. It is a medical imaging technology used to store, retrieve, present, and share images that are produced through various medical hardware modalities, such as CT scan, X-ray, MRI, and ultrasound machines. Ophthalmology PACS is used to efficiently manage the image data and eliminate the physical limits associated with the communication of radiologic image data on films. The cost of PACS involves initial implementation and ongoing maintenance. An increasing prevalence of eye-related diseases, growing geriatric population, and technological advancements witnessed in ophthalmic devices are fuelling the global ophthalmology PACS market. However, the high cost of care for patients may prove to be a major hindrance for this market's growth.
The rising burden of ophthalmic diseases, increasing private and public healthcare expenditure, high unmet medical needs in developing economies, and the rising number of government initiatives to improve vision care practices are driving the ophthalmology PACS market globally. Additionally, the growing demand for early and accurate detection methods is likely to further propel the ophthalmology PACS market over the assessment period. Furthermore, EHR and EMR systems are providing accurate and complete information to healthcare service providers, thereby helping in improving the diagnosis while reducing other medical errors. Moreover, government organizations are taking initiatives to encourage the adoption of EHR and EMR systems, which is further boosting the growth of the ophthalmic PACS market globally.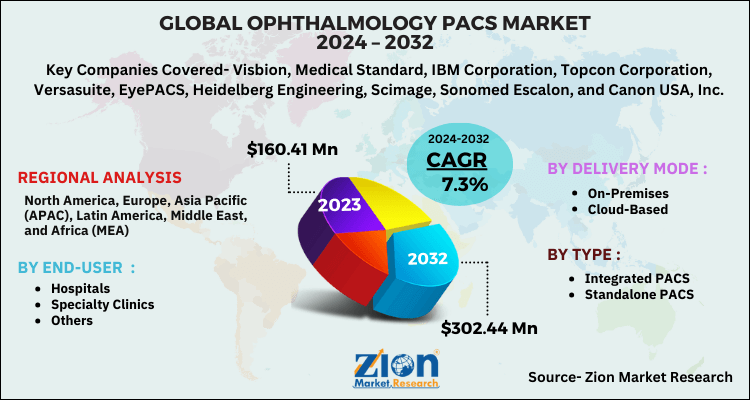 The ophthalmology PACS market is sectored into type, delivery mode, and, end-user. Based on the type, the market is bifurcated into integrated PACS and standalone PACS. On the basis of delivery mode, the ophthalmology PACS market is divided into on-premises and cloud-based. The end user segment includes hospitals, specialty clinics, and others.
By region, North America and Europe dominated the global ophthalmology PACS market in 2018 and are likely to show high growth rate, especially in Canada, Germany, UK, and the U.S. This can be attributed to the rising investments in research and development activities conducted in these countries and high prevalence of eye-related diseases. Furthermore, technological advancements, such as the incorporation of patient portals, and rising disposable incomes of patients are likely to propel the ophthalmology PACS market growth in these regions. Growing healthcare expenditure in developing countries, such as China and India, and advancements made in software using artificial intelligence are likely to provide multiple opportunities for market expansion in the Asia Pacific region.
Some leading players in ophthalmology PACS market include Visbion, Medical Standard, IBM Corporation, Topcon Corporation, Versasuite, EyePACS, Heidelberg Engineering, Scimage, Sonomed Escalon, and Canon USA, Inc.