Analysis
Analytical solutions for the oil and gas sector will help the related industries in having an aggregate view of their operations, aid in keeping up with the fiery/changing global market, fulfill dynamic customer needs, and adhere to strict government regulations. These solutions help organizations to better understand the overall lifecycle and work efficiently and effectively with the given resources. Moreover, these solutions will further enhance productivity and improve operations, which will drive the oil and gas analytics market globally in the future.
The oil and gas analytics help in analyzing the supply chain performance and identify the source of production loss. The rising global demand for oil and gas as a fuel is expected to boost the oil and gas analytics market. Furthermore, the increasing consumption of oil and gas in automobiles, public transports, aviation industry, power industry, and two-wheelers for commuting, both to and fro from work and leisure, will also propel the oil and gas analytics market. The depleting oil and gas reserves and rising concerns related to its alternative is a challenge faced by the global population, which is also driving this market. However, the oil extraction machines face harsh environments in deep waters and deserts and rising maintenance cost of oil refineries may hinder the oil and gas analytics market growth in the upcoming years.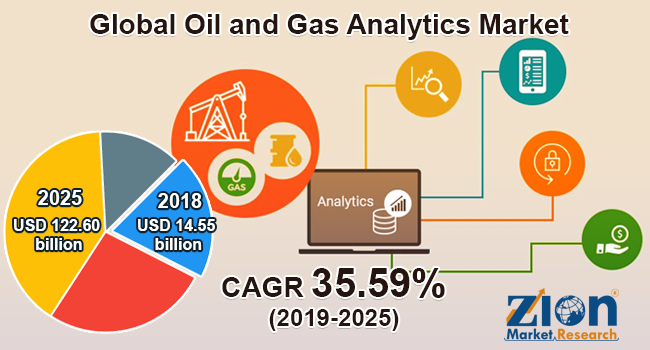 The global oil and gas analytics market is fragmented on the basis of application, deployment platform, and service. The application segment of the market includes downstream, midstream, and upstream operations. By service, the oil and gas analytics market comprises cloud, integration, and professional services. Based on deployment, the market consists of hosted and on-premises. The hosted platform is expected to grow notably over the anticipated time period, owing to its cost-saving feature and productivity enhancement of a business.
North America is anticipated to hold a substantial share of the global oil and gas analytics market in the years ahead, owing to the early adoption of cloud-based technology and the presence of prominent players in the region. The increasing exploration and production of oil and gas in the region is also contributing to this regional market. In recent years, North America has seen a rise in the production and exploration of unconventional oil and gas. Additionally, the analytical software will help the oil industry in resolving and achieving low maintenance and operational costs. The Asia Pacific region is likely to grow at a substantial rate over the anticipated timeframe in the oil and gas analytics market.
Some noticeable players of the oil and gas analytics market are Accenture, Cisco Systems, Hewlett-Packard, Microsoft, EMC Corporation, IBM, SAP, Oracle, and Teradata.