Analysis
Nanomaterials are materials having at least one spatial dimension in the range of 1 to 100 nanometers in size. Nanomaterials can be formed with different modulation dimensionalities. They can exist in the form of clusters, crystals, wires, tubes, quantum dots etc., whereas a collection of nanostructures involves superlattices, arrays, and assemblies. The physical and chemical properties of nanomaterials may differ from other materials of the same composition, and could also behave differently on usage. Nanomaterials exist in nature and can also be created from products such as carbon, silver etc. Most nanomaterials are too small to be seen with the naked eye or even with conventional lab microscopes. Presently, there are some areas of concern in the nanomaterials market that are expected to be addressed and analyzed in the coming years.
Nanomaterials made of semiconductors, metals, or oxides have been witnessing huge demand owing to their electrical, magnetic, mechanical, optical, chemical and various other properties. Nanomaterials are also used as chemical catalysts as they can be easily separated and recycled with more retention of catalytic activity than their bulk counterparts. Recently, a variety of nanomaterials is being investigated for applications in tissue engineering, biomedical applications, drug delivery, biosensors etc. However, lack of research and understanding about nanomaterials is expected to hinder the growth of the market within the forecast period. The safety concerns and potential health hazards associated with nanomaterials is also expected to curb the growth of the nanomaterials market. Regulations of nanomaterials are mainly focused on their impact on the environment and human health. There are various regulatory bodies across the globe that assess the safety and toxicology of nanomaterials like EPA, TSCA, RCRA, NIOSH, CLP/GHS, REACH and many others.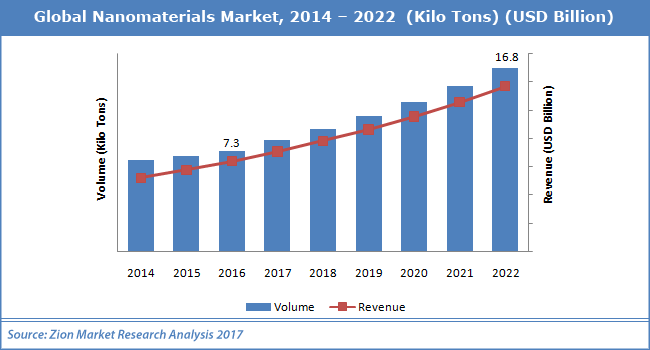 The impact of this factor is expected to reduce in the near future as the on-going research activities and government funding to support the development of nanomaterials is expected to open new avenues of opportunities for the key players in the global nanomaterials market in the coming years.
Global nanomaterials market is segmented into type, application, and region. The type segmentation includes metal oxides, metals, chemicals & polymers, and others. Chemical and polymers segment is leading the market owing to its wide applications in nanopharmaceuticals, liposomes, other chemicals & polymers. Construction, chemical products, packaging, consumer goods, electrical & electronics, energy, health care, transportation and others are the application segments of the global nanomaterials market. Chemical products segment accounted for the largest market share of the nanomaterials market. Healthcare segment is anticipated to emerge as the fastest growing segment in coming years. Global nanomaterials market is bifurcated into; North America, Europe, Asia Pacific, Latin America and Middle East & Africa. North America was the dominant region in 2016 and is likely to register high CAGR over the forecast period owing to the extensive usage of nanotubes in various industries like electronics, chemical products and pharmaceuticals in the region. Europe held a significant market share in the global nanomaterials market. Asia Pacific is expected to be the fastest growing region due to the demand from emerging countries like India and China.
Some of the key players operating in the global nanomaterials market include BASF, Evonik Industries, Covestro, Altair Nanotechnologies Inc., EMFUTUR Technologies and SkySpring Nanomaterials among others.