Analysis
System on chip (SoC) is an integrated circuit which may operate on digital, analog or a mixed signal formed by integrating several electronics components on a single chip. A standard SoC comprises IP peripheral and core. In general, SoC integrates microcontroller, microprocessors, and specific application with advanced peripherals like graphics processing unit (GPU), Wi-Fi module, or coprocessor. SoC that is specially designed to operate on mixed signal is termed as Mixed Signal System-On-Chip (MxSoC). Mixed Signal System-On-Chip (MxSoC) handles both analog circuits and digital circuits on a single semiconductor. Owing to the potential to handle both digital integrated with analog signals, it also offers advanced functionalities on a single chip. Being extremely rapid and resourceful in nature, mixed SoC technology holds technically superior priority that can also be implemented in complicated electronic systems. The Mixed Signal System-On-Chip (MxSoC) systems are typically cost-effective solution which can be implemented for building any consumer electronics applications. The Mixed Signal System-On-Chip (MxSoC) systems financially benefit by being typically cost effective and can be utilized for developing consumer electronics applications. Then again, due to the presence of both digital signal processing and analog circuitry, it can be utilized in numerous varieties of applications that require mixed signal handling abilities. Currently, the application area of mixed signal technology is emerging and has spread in all possible end-user sectors ranging from computers, ICT sectors to consumer electronics and industrial.
The globally growing demand for multi-core technologies and emerging smartphones market owes major contribution in accelerating the MxSoC market. Embedded graphics are immensely increasing demand for MxSoC too. However, the inconsistent growth of the DSP SoC market is hindering the market growth. Additionally, increasing issues in the migration of technology nodes for SoC manufacturing is restraining the growth of the MxSoC market. The consistently advancing trend of digital television and set-top boxes will serve an effective opportunity, fuelling the global MxSoC market growth rate. In addition, rapidly growing tablet PCs market offers significant opportunities for this market in future.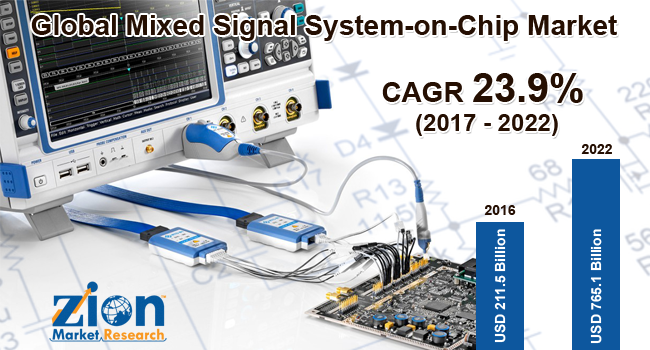 Mixed Signal System-On-Chip (MxSoc) market is segmented by product, processor type, technology, application, and region. The product segment is further categorized into standard cell-based mixed signal SoC and embedded mixed signal SOC. Based on fabrication technology used the market is bifurcated into full custom mixed signal SoC and semi-custom mixed signal SoC Mixed signal on the chip can be designed using different processors such as configurable processors, arm processors, soft instructions processors, multi-core processors and digital signal processors. Being the latest technology the market has application in wide range of sectors such as consumer electronics, ICT, automotive, industrial, military & aerospace, computers, medical, RF applications, & other applications. Regionally the market is bifurcated into five prime regions namely North America, Europe, Asia Pacific, Latin America, and Middle East & Africa.
The prime players involved in the mixed signal system-on-chip (MxSoc) market are Intel Corporation, Apple Inc., Broadcom Corporation, Marvell Technology Group, Arm Holdings PLC, Elpida Memory Inc., LSI Corporation, MIPS Technologies Inc., Palmchip Corporation, Texas Instruments Inc., NVIDIA Corporation, Qualcomm Incorporated, Microsemi Corporation, and Fujitsu Semiconductor Inc among others.