Analysis
The micro-led display is basically an evolving flat panel display technology, formed by multiple arrays of microscopic LEDs that together form pixel elements. As compared to the most popular LCD display technology, it not only offers better response time but also extensively reduces the overall energy requirement, which results in better energy efficiency. Micro-LEDs are mainly developed for small and low energy devices, such as smartphones, smartwatches, etc.
The global commercialization of micro-LED display is still in its emerging state. The rising demand for brighter and energy-efficient displays is anticipated to drive the micro-LED display market over forecast timeframe. The demand for micro-LED displays that are extensively compact in size with excellent viewing angle is flourishing worldwide. The implementation of micro-LED displays is currently at its peak, as it provides a brighter picture with a high pixel resolution and unbeatable energy efficiency. The worldwide display manufacturers are observed to be opting for micro-LED solutions to improve the overall experience of the consumer. Additionally, the high penetration rate of micro-LED displays is also due to their high pixel resolutions and exclusive image quality. Furthermore, the never-ending demand for display size reduction will contribute notably toward the micro-LED display market. However, the escalating demand for flexible and foldable display technology may hamper the micro-LED display market to some extent. Moreover, the rising number of micro-LED-based component in display panels is expected to create lucrative growth opportunities for the global micro-LED display market in the future.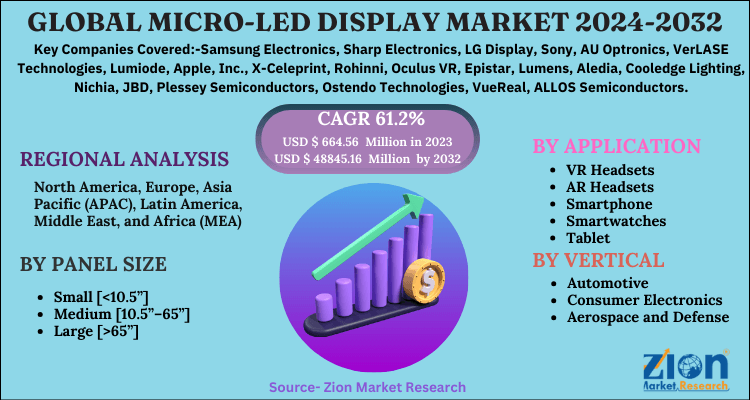 The global micro-LED display market is segmented on the basis of panel size, application, and vertical. Based on panel size, the micro-LED display market is majorly segmented into small [<10.5"], medium [10.5"–65"], and large [>65]. By application, the market is segmented into VR headsets, AR headsets, smartphone, smartwatches, tablet, TV, laptop, HUD, and digital signage. The micro-LED smartwatches segment is anticipated to witness rapid market growth in the future, owing to its growing commercialization. By vertical, the market includes automotive, consumer electronics, aerospace and defense, advertisement, and others. The consumer electronics segment is projected to hold a prominent market share in the years ahead, due to the flourishing demand for micro-LED display in smartwatches, smartphones, and tablets.
By region, the Asia Pacific micro-LED display market is estimated to grow rapidly in the upcoming years, owing to the presence of prominent market contributors in the region and the replacement of conventional LED lightings with micro-LED display lightings in emerging economies, such as India and China.
Some key participants operating in the global micro-LED display market are Samsung Electronics, Sharp Electronics, LG Display, Sony, AU Optronics, VerLASE Technologies, Lumiode, Apple, Inc., X-Celeprint, Rohinni, Oculus VR, Epistar, Lumens, Aledia, Cooledge Lighting, Nichia, JBD, Plessey Semiconductors, Ostendo Technologies, VueReal, ALLOS Semiconductors, Uniqarta, Mikro Mesa Technology, and PlayNitride, among others.