Analysis
Medical marijuana utilizes marijuana chemicals or plants to treat various medical conditions and diseases. Medical marijuana is the same as recreational marijuana, but it's advised to consume for medical purposes only. The marijuana plant constitutes more than 100 different chemicals that are called cannabinoids. Each cannabinoid has a different effect on the human body. Cannabidiol (CBD) and Delta-9-tetrahydrocannabinol (THC) are two crucial chemicals that are used in medical marijuana.
The high demand for medical marijuana for medical and therapeutic treatments and operations is the primary factor contributing to the growth of the medical marijuana packaging market. Additionally, huge public and private investments in R&D to discover safer forms of ingesting marijuana, such as oils and tinctures, is expected to have a positive impact on this market's growth in the future. The presence of several regulatory bodies and institutions for policy formulations, such as the Medical Marijuana Regulation and Safety Act, will further stimulate the medical marijuana packaging market in the upcoming years. There are a specific set of rules and regulations that every packaging company has to follow to sell medical marijuana. Every packaging should have labeling and specific dosage information for safety purposes, particularly for child-resistant packaging. Labeling regulations should be particular about quantity and information of chemicals in medical marijuana. However, the time-consuming government approval process may hamper the medical marijuana packaging market in the future.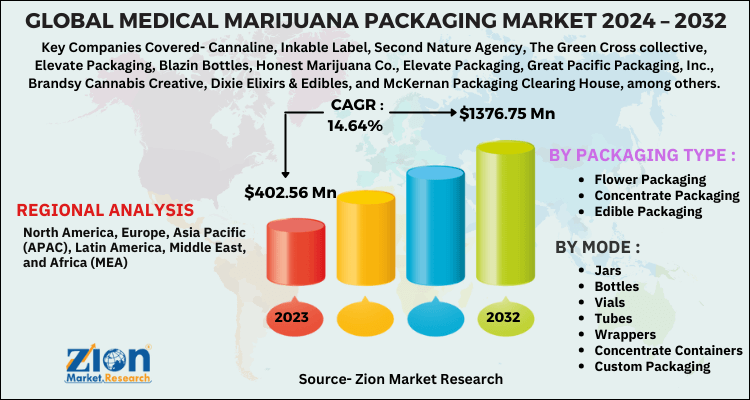 Based on packaging type, the medical marijuana packaging market is segmented into flower packaging, concentrate packaging, and edible packaging. On the basis of mode, the market is categorized into jars, bottles, vials, tubes, wrappers, concentrate containers and custom packaging.
By region, North America held an extensive revenue share of the global medical marijuana packaging market in 2018 and is expected to dominate in the upcoming years as well. This regional growth can be attributed to the growing acceptance of medical marijuana in most of the U.S. states and the widened scope of medical marijuana due to cannabis legalization. The Asia Pacific medical marijuana packaging market is expected to provide significant opportunities in the global market, owing to the growing acceptance of medical marijuana in the Southeast Asian nations. Thailand was the first country to legalize the use of medical marijuana.
Some key industry players operating in the global medical marijuana packaging market include Cannaline, Inkable Label, Second Nature Agency, The Green Cross collective, Elevate Packaging, Blazin Bottles, Honest Marijuana Co., Elevate Packaging, Great Pacific Packaging, Inc., Brandsy Cannabis Creative, Dixie Elixirs & Edibles, and McKernan Packaging Clearing House, among others.