Analysis
Marijuana is a greenish-gray color mixture of dried flowers of cannabis sativa. Medical marijuana is in its inception phase in the medical sector. The chemical characteristics of medical marijuana have their usage in the treatment of various diseases, such as mental disorders, chronic pain, cancer, etc. Marijuana for medicinal uses is steadily finding acceptance in the society globally, which, in turn, is fuelling the expansion of medical marijuana market on a global scale.
Currently, medical marijuana is in its initial phase in the medicinal healthcare industry. It is a revolutionary product that is garnering mass acceptance globally, where Chinese remedies still use such plants and have a long history associated with marijuana. Medical marijuana has the potential to create a huge impact on the healthcare industry to cure cases that are not treatable by traditional medicines. Medical marijuana is basically common marijuana plant used to obtain an authentic composition of cannabinoids required for manufacturing the product needed for medicinal use.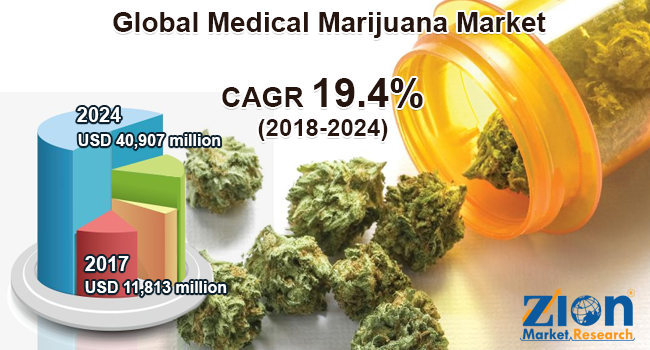 The medical marijuana market is segmented based on product, application, and distribution channel. By product, the medical marijuana market is bifurcated into dried form and extracts form. Based on application, the market is segmented into pain management, seizure, and others. By distribution channel, the market covers retail pharmacy and e-commerce.
North America accounted for the largest share in the medical marijuana market in 2017 and is likely to register the highest CAGR over the forecast timeframe. The legalization of cannabis in the U.S. for medical uses is one of the key factors contributing to the high growth rate of the medical marijuana market in the region. Moreover, Canada's move to legalize recreational marijuana is expected to boost market growth in North America in the upcoming years. Europe accounted for the second position in terms of revenue in the global medical marijuana market.
Some of the leading players in medical marijuana market include MedReleaf Corporation, GW Pharmaceuticals PLC, Canopy Growth Corporation, Green Relief Inc., Aurora Cannabis Inc., Aphria Incorporation, Cannabis Sativa, INC., Medical Marijuana, The Peace Naturals Project, and Insys Therapeutics, Inc. The growing competition among the key players operating in the market, owing to rising acceptance of marijuana for medical use and new product launches by the companies operating in the market are expected to propel the growth of the global market in the future. For instance, on October 4, 2018, the Medical Marijuana Inc., the first publicly traded marijuana company in the U.S., launched its new product, Real Scientific Canada crossways Canada via Canadian formulation and extraction company Salvation Botanicals, Ltd. Moreover, on October 17, 2018, the company launched various cannabis products, which includes internationally-recognized Real Scientific Hemp Oil, which was first Cannabidiol (CBD) product line in the U.S. to receive import permits in Mexico, Brazil, and Paraguay, and to be sold over state lines.