Analysis
Medical device labeling is the information associated with the device targeted toward the patient or caregiver. It helps in ensuring that the device is used effectively and safely. Medical device labeling is done in varied forms. For instance, it is supplied in the form of videotapes, patient brochures, user manuals, and patient leaflets. Medical devices are instruments, appliances, apparatus, implants, machines, calibrators or in vitro reagents, materials, and software, which are supplied by manufacturers to be used, alone or in combination, for human beings for various purposes. Medical device labeling is extremely complicated for the manufacturers due to the complex government regulations to guarantee compliance, competent authority examination, increased audits, and language requirements.
Medical device labeling helps patients or their caregivers to understand the device, its operation, care, maintenance, and safety, or disposal requirements. It is important to ensure the secure and effective use of these devices. Medical device labeling provides information for patients or caregivers regarding the proper use, risks, and benefits associated with the specific device. These factors are expected to drive the global medical device labeling market over the forecast time period.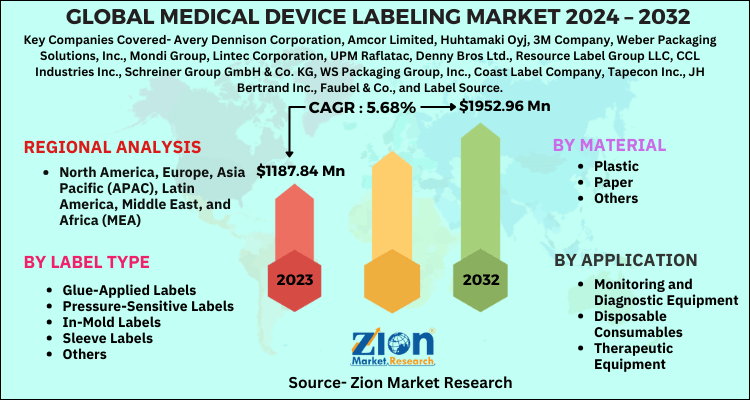 Based on label type, the medical device labeling market is segmented into glue-applied labels, pressure-sensitive labels, in-mold labels, sleeve labels, and others. By material type, the market is segmented into plastic, paper, and others. By application, the medical device labeling market is segmented into monitoring and diagnostic equipment, disposable consumables, and therapeutic equipment.
By region, the North American medical device labeling market contributed the highest revenue share to the global medical device labeling market in 2018 and is expected to dominate over the forecast timeframe as well. This regional growth can be attributed to the increasing investment made in research and development activities in the medical sector, developed healthcare infrastructure, and the presence of major industry players in the region. The Asia Pacific is projected to provide significant growth opportunities in the medical device labeling market over the estimated timeframe. The Middle Eastern and African region is expected to register moderate growth in the future.
Some players of the global medical device labeling market are Avery Dennison Corporation, Amcor Limited, Huhtamaki Oyj, 3M Company, Weber Packaging Solutions, Inc., Mondi Group, Lintec Corporation, UPM Raflatac, Denny Bros Ltd., Resource Label Group LLC, CCL Industries Inc., Schreiner Group GmbH & Co. KG, WS Packaging Group, Inc., Coast Label Company, Tapecon Inc., JH Bertrand Inc., Faubel & Co., and Label Source.