Analysis
Medical carts are mobile or moving carts that are durable and lightweight. They are mainly used to carry equipment during emergencies. In order to provide hassle-free care to the patients, selection of apt mobile carts is crucial. For instance, the demand for small handheld devices is rising to streamline the routine clinical workflow, which includes detailed documentation of in-patient admissions, supplies used for fluid administration, and medication recording. During surgeries, the use of a secure medication cart which has a tablet PC installed is better rather than using separate carts for medication and computer. This saves space and money. Critical care units have limited floor space and the use of appropriate medical cart can benefit in emergencies.
Due to the growing need for easy and rapidly accessible medical supplies, there has been an increasing focus on nursing efficiency, patient safety, and development of advanced technologies, such as telemedicine, are propelling the market growth for medical carts. Besides, investments made by government bodies in healthcare infrastructure in developed and developing countries are further fostering the demand for the medical carts market. Moreover, computer carts provide workflow solutions and ergonomic features to reduce and accommodate lengthy tasks associated with providing improved personal care for patients. As these carts are mobile in nature, it helps the caregivers to have a highly mobile workflow. Mobile computer carts allow a single computer system to be used in multiple places of the hospitals, clinics, and labs. This, in turn, saves time, especially in old structures or buildings where the set-up cannot accommodate costly technological solutions. However, the high cost associated with the demand for customized medical carts and lack of skilled professionals are hindering the growth of medical carts market, especially in the developing countries, such as China and India.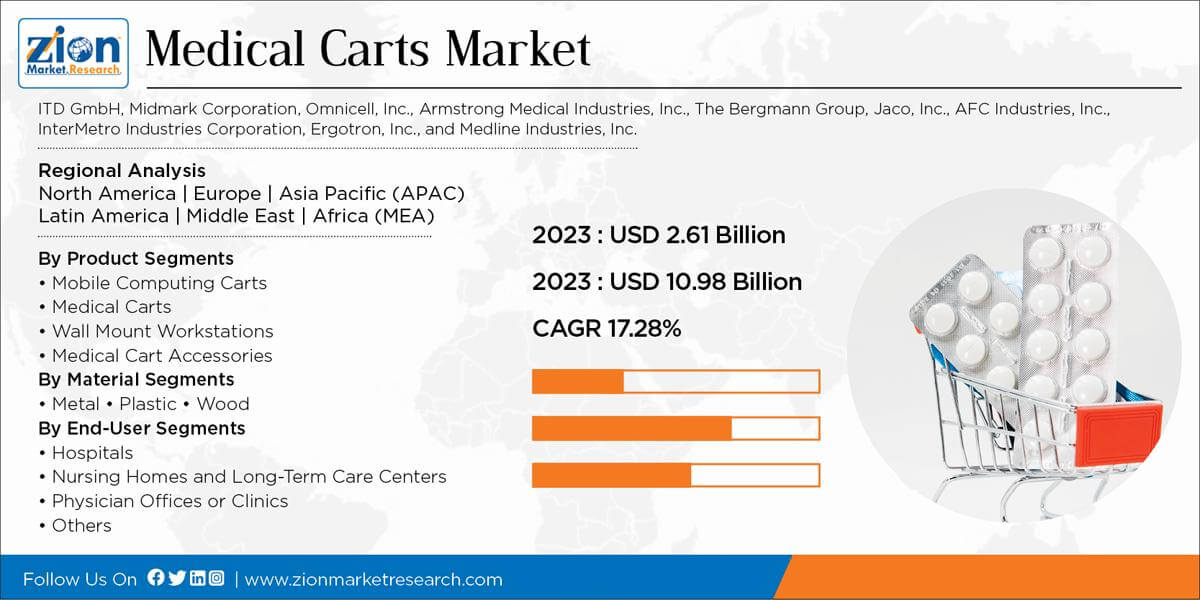 The medical carts market is divided on the basis of product, material, and end-user. On the basis of product type, the market is categorized into mobile computing carts, medical carts, wall mount workstations, and medical cart accessories. The mobile computing carts segment is further sub-divided into telemedicine carts, computer carts, medication carts, and documentation carts. The medical carts segment are further sub-divided into procedure carts, emergency carts, anesthesia carts, and other carts. The wall mount workstations market is sub-segmented into wall cabinet workstations and wall arm workstations. On the basis of material type, the market is classified into metal, plastic, and wood. Based on end-user, the medical carts market is fragmented into hospitals, nursing homes, and long-term care centers, physician offices or clinics, and others.
North America and Europe are anticipated to dominate the medical carts market and are likely to hold a major market share in the forecast timeframe. This growth can be attributed to the smooth running of healthcare operations, i.e., starting from hospital admission of patients to their reimbursements and the availability of integrated healthcare IT systems to maintain EHR are some growth factors contributing toward this market's growth of these two regions. Moreover, medical device manufacturers in these regions focus on developing advanced and customized medical carts that are suitable for various customer requirements. Companies are focused on enhancing their product portfolio to include more technically advanced products, such as clinical workstations with security drawers, automated dispensing systems, and batteries, etc. The Asia Pacific region is likely to witness an attractive growth rate, as the manufacturers in this region are focusing on developing low-cost devices with higher efficiency. Additionally, the leading market players are investing in local companies due to low costs of raw materials and labor in this region.
Some of the leading players in medical carts market include ITD GmbH, Midmark Corporation, Omnicell, Inc., Armstrong Medical Industries, Inc., The Bergmann Group, Jaco, Inc., AFC Industries, Inc., InterMetro Industries Corporation, Ergotron, Inc., and Medline Industries, Inc. The market for medical carts is highly competitive due to the presence of a large number of manufacturers and suppliers in the industry. Companies are involved in mergers, acquisitions, and regional expansion to strengthen their market position.