Analysis
The lubricating oil and grease used in the marine industry are called marine lubricants. The marine engine oil is used to reduce the friction between the two surfaces that are in mutual contact. They help in reducing the heat generated between the surfaces in contact, improve efficiency, and protect the engines. These lubricants provide various features, such as extending engine life, protecting the engine and other components at higher temperatures, protection from mechanical and wear cold corrosion, and improving performance and reliability of machinery. Moreover, lubricants with superior quality and characteristics further contribute to maintaining the water vessels, which, in turn, improves the overall shelf life of engines. Marine lubricants are widely used in the shipping industry to enable optimal performance in marine operations.
Increasing demand for marine transport leads to the growing use of marine engine oils, which is likely a major factor to drive this market's growth in the upcoming years. In addition, increasing tourism activities and cruising activities are further anticipated to strongly support the marine lubricants market. The need to prevent the components from rustic also likely to positively impact the growth of marine lubricants market. Furthermore, the rising oil drain intermissions in the shipping sector and the decrease in oil consumption have raised the demand and supply of oil. Thus, the key players of the marine lubricants market are focusing on the development of a high-quality range of lubricating oil for different types of engines, which, in turn, is likely to aid in the market growth. However, stringent environmental norms for synthetic lubricants might hamper the marine lubricants market in the forecast time period.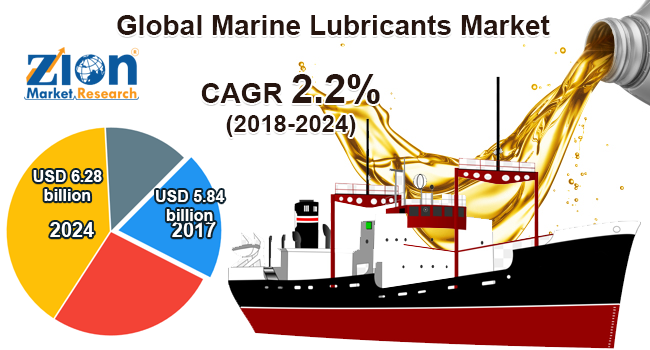 By oil type, the marine lubricants market is segmented into synthetic oil, mineral oil, bio-based, and grease. By application, the market is categorized into hydraulic fluid, engine oil, and compressor oil. By ship type, the market is classified into the tanker, bulk carrier, and container.
The Asia Pacific accounted for a major market share in terms of revenue and volume in 2017. This region dominance is projected to continue in the upcoming years, due to the rising infrastructural developments in the shipping industry, increase in the trade activities, and growing use of less toxic products. Moreover, this regional market is largely driven by the existence of the world's busiest ports in Singapore, China, and Hong Kong.
Total S.A., PJSC Lukoil, Royal Dutch Shell Plc, Valvoline Inc., Quepet, BP plc, Chevron Corporation, Synforce lubricants, Gulf Oil and Indian Oil, Exxon Mobil Corporation, Sinopec Corporation, and Idemitsu Kosan Co. Ltd. are some of the leading players operating in the global marine lubricants market.