Free Analysis
A manufacturing execution system (MES) is a system that monitors, controls, and connects data flows and complex manufacturing systems on the factory floor. Ensuring the efficient execution of the manufacturing process and improving production output are the primary objectives of the manufacturing execution system. This system helps in achieving those objectives by tracking and collecting real-time, accurate data about the complete manufacturing system, from raw material supply to the final finished product.
Technological advancements and upsurge of cloud-based solutions in the manufacturing industry are some of the major factors driving the global manufacturing execution system market. Cloud-based manufacturing execution system offers advantages in production efficiency, ease of use, simplified access, and higher system uptimes. The user can access all the system components such as servers, networking equipment, data storage devices, and software within a streamlined and powerful cloud environment. Increasing necessity of real-time information in order to improve coordination has propelled the manufacturing execution system market growth across the globe. With the help of the Internet Of Things, the manufacturing execution system increases operational visibility with real-time information. However, high implementation cost of manufacturing execution systems may hinder the market growth.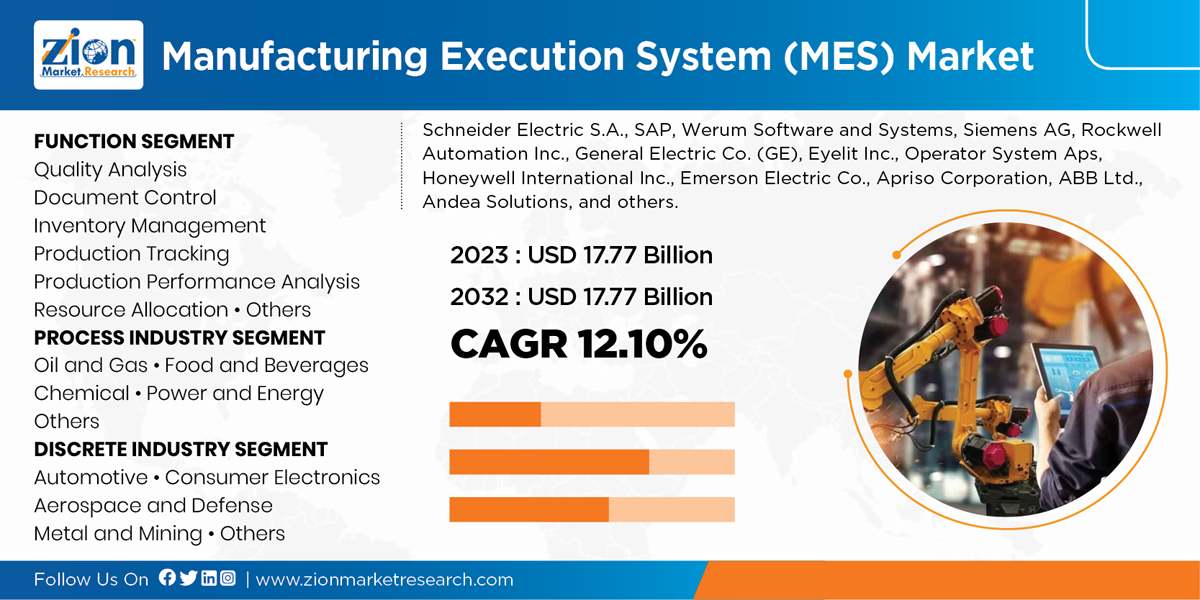 Manufacturing execution system (MES) market is segmented based on function, process industry, discrete industry, and regions. Functions segment include quality analysis, document control, inventory management, production tracking, production performance analysis, resource allocation, and others. Based on process industries, the global manufacturing execution system (MES) market is divided into oil and gas, food and beverages, chemical, power and energy, and others. Discrete industries wise, the global manufacturing execution system (MES) market is sectored into automotive, consumer electronics, aerospace and defense, metal and mining, and others.
The manufacturing execution system (MES) market is analyzed across five regions, which include North America, Europe, Asia Pacific, Latin America, and the Middle East and Africa. The regions are further classified into major countries. Among the regions, Asia Pacific is expected to record the highest growth rate in global manufacturing execution system (MES) market during the forecast period. The adoption of manufacturing execution systems in the Asia Pacific will grow rapidly due to the execution of the Internet Of Things in various sectors in both processes and discrete industries. Adoption of new technologies, huge amount of data deluge, increasing necessity of automation, and rise in SME's in the Asia Pacific are the factors contributing to the growth of manufacturing execution system (MES) market in this region.
Key players profiled in the global manufacturing execution system (MES) market report are Siemens AG, Rockwell Automation Inc., Schneider Electric S.A., SAP, Werum Software and Systems, General Electric Co. (GE), Honeywell International Inc., Eyelit Inc., Operator System Aps, Emerson Electric Co., Apriso Corporation, Andea Solutions, and ABB Ltd., among others.