Analysis
Magnetic materials produce a magnetic field around their surroundings. The magnetic field created by magnetic materials is generally invisible. These materials exhibit their magnetic properties even after they are removed from the specific magnetic field. The magnetic materials attract ferrous metals and repel non-ferrous metals. Nickel, cobalt, iron, etc. are obtained naturally from the earth's surface are some commonly found magnetic materials. Alloys made from rare earth elements or metals can be magnetized to get powerfully attracted to a magnet. These types of elements are known as ferromagnetic materials. Magnetic materials have a diverse range of applications in automotive and electronics industries. Magnetic materials are the main components for making magnets.
The global magnetic materials market is likely to experience notable growth in the future, owing to the increasing demand for permanent magnets across different industry verticals. Permanent magnets are widely used in wind turbines for the generation of renewable energy. The growing acceptance of magnets in various computer applications is also boosting this market's development. With rapid technological advancements, the energy-efficient storage systems were introduced in the market. Significant developments have been made related to energy storage devices in recent times. Energy efficiency was achieved by the implementation and use of magnetic materials. Thus, this is projected to further foster market growth. Furthermore, the growing use of nano-crystalline magnetic materials by the biomedical industry is also driving the global magnetic materials market. However, the volatile raw materials prices may hamper the market growth in the future.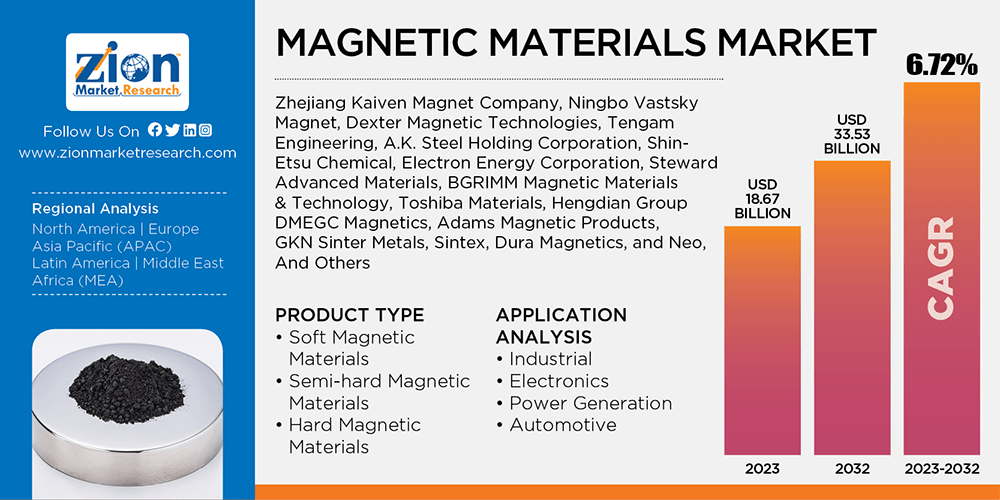 Based on product type, the magnetic materials market is segmented into soft magnetic materials, semi-hard magnetic materials, and hard magnetic materials. On the basis of application, the market is categorized into industrial, power generation, automotive, and electronics.
Asia Pacific region held an extensive share of the global magnetic materials market and is expected to continue with its regional authority in the upcoming years as well. This regional growth can be attributed to the growing production of rare earth elements. China is the biggest producer of the rare earth elements followed by India. Rare earth elements are extensively utilized for the production of permanent magnets, which is the primary factor for the Asia Pacific magnetic materials market growth. North America is expected to provide significant opportunities for the global magnetic materials market growth in the future, owing to the growing adoption and acceptance rate of soft magnets in consumer electronics. The implementation of magnets in smartphones, computers, etc. is likely to stimulate this regional market's development.
Some key industry players operating in the global magnetic materials market include Zhejiang Kaiven Magnet Company, Ningbo Vastsky Magnet, Dexter Magnetic Technologies, Tengam Engineering, A.K. Steel Holding Corporation, Shin-Etsu Chemical, Electron Energy Corporation, Steward Advanced Materials, BGRIMM Magnetic Materials & Technology, Toshiba Materials, Hengdian Group DMEGC Magnetics, Adams Magnetic Products, GKN Sinter Metals, Sintex, Dura Magnetics, and Neo.