Analysis
Liquid waste management is a sequence of processes to dispose of toxic or non-toxic liquid waste released from different sources. It includes collection, segregation, processing, and safe disposal of liquid wastes. Liquid waste can be released in different types like excreta and used water from domestic, industries, stormwater, and sludge. Liquid waste exhibits pungent odor and dark color due to the presence of myriad forms of impurities, such as microbes, chemicals, metal particles, and vegetable wastes. Liquid waste management aids to prevent waterborne diseases and hazardous effects of waste on the environment and restores capacities of functioning machinery and equipment of manufacturing units.
The liquid waste management market will witness remarkable growth in the years ahead, owing to the increasing hygiene awareness in developing economies, rapid industrialization, and rising number of stringent regulations set by governments and international authorities. Industrial liquid wastes are the most hazardous form of liquid wastes and inherently require careful and safe management processes. However, the liquid waste management market may be limited by the requirement of huge investments and the lack of skilled experts to monitor liquid waste management in developing economies. Alternatively, the liquid waste management market is expected to generate new growth opportunities owing to the ongoing R&D initiatives to drive the recycling of liquid wastes for various domestic and commercial purposes.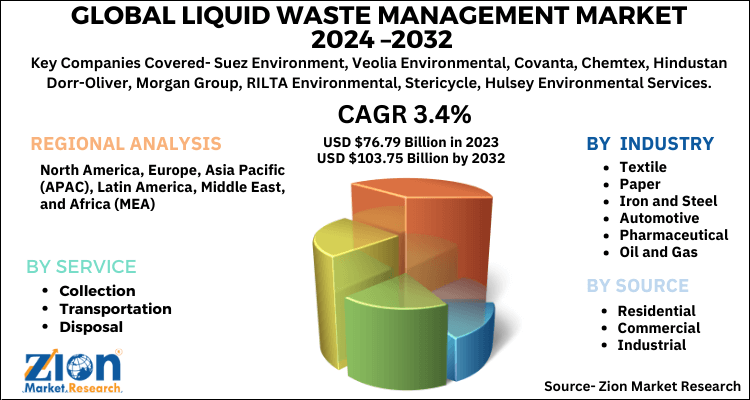 The liquid waste management market is fragmented based on source, industry, and service. By source, the liquid waste management market includes residential, industrial, and commercial. In 2018, the residential segment held the largest share of the liquid waste management market. The commercial segment is projected to show the highest CAGR, owing to the growing wastewater generation from hospitality and medical sectors. The industry segment of the market comprises oil and gas, paper, textile, iron and steel, pharmaceutical, automotive, and others. The pharmaceutical industry is expected to show the fastest CAGR over the forecast time period. By service, the market includes collection, transportation, and disposal.
North America dominated the liquid waste management market in 2018 globally, with the largest market share. The Asia Pacific liquid waste management market is projected to register the fastest CAGR, owing to the enormous potential of its emerging economies, such as India and China, in the future.
Some major players of the liquid waste management market are Suez Environment, Veolia Environmental, Covanta, Chemtex, Hindustan Dorr-Oliver, Morgan Group, RILTA Environmental, Stericycle, Hulsey Environmental Services, and Russell Reid Waste Management.