Analysis
Dry milk powder is the most commonly used replacement for liquid milk, which fulfills the nutritional requirements in a more accurate form. This dry milk powder is most commonly used as a milk substitute, which is made by mixing water and milk. Primarily, this replacement method is mostly useful for feeding calves. This technique is economical in nature. The dry form of milk is not a perishable product. It can be stored for a long period of time with respect to its expiry date. In fact, 70% of the calves in the U.S. feed on milk replacers instead of cow milk.
The global liquid milk replacer market is likely to grow notably in the future, as it is a high-quality milk replacer that allows calf growth and increases calf performance. The most common use of milk replacer is providing nutrition for infant growth. Major factors like rising consumption of dairy products and the adoption of precision nutrition techniques are driving the growth of the global liquid milk replacer market. Huge investments made in the research and development activities by leading players from developed regions are estimated to further the global liquid milk replacer market in the future. The increasing global demand for healthy dairy products is another factor fueling this market. However, various government restrictions on consumer safety, volatility in raw material prices, and high cost of encapsulation technologies leading to an increased final product cost may hinder the growth of the liquid milk replacer market globally.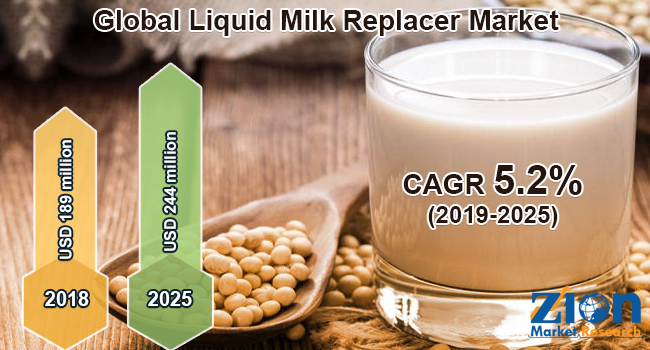 By product type, the global liquid milk replacer market is fragmented into non-medicated and medicated liquid milk replacers. The medicated segment is predicted to account for a significant share of the global market in the years ahead. Improved health of infants and various health benefits are driving the medicated liquid milk replacer segment growth.
On the basis of livestock, the global liquid milk replacer market is classified into kittens, calves, piglets, foals, kids and lambs, and puppies. The calves segment accounted for a dominant share in the global market in 2018 and is anticipated to show a significant growth rate over the forecast time period, as early life nutrition provided to calves facilitates their faster growth, whereas poor feed can be harmful to their growth.
By geography, the global liquid milk replacer market finds its market scope in North America, Europe, Asia Pacific, Latin America, and the Middle East and Africa. The North American liquid milk replacer market is projected to grow substantially in the years ahead. This regional growth can be attributed to the increased focus on R&D activities for the development of innovative products across the region. In addition, liquid milk replacers are a major meal replacer for livestock.
Some major players operating in the global liquid milk replacer market are Land O'Lakes, Glanbia, Liprovit, PETAG, Cargill, Calva Products, CHS, Archer Daniels Midland Company, Lactalis Group, and Nutreco N.V.