Analysis
Iron ore pellets are one of the essential raw materials used by the steel industry for steel production. Iron ore pellets help in the rapid expansion of the steel sector as well as assist in sustaining the global economy.
Rising product demand from the steel industry, growing commercial, residential, and other construction projects and other sports construction activities are anticipated to drive the iron ore pellets market growth in the forecast time period. Moreover, innovations witnessed related to manufacturing activities are estimated to further fuel the iron ore pellets market in the upcoming years.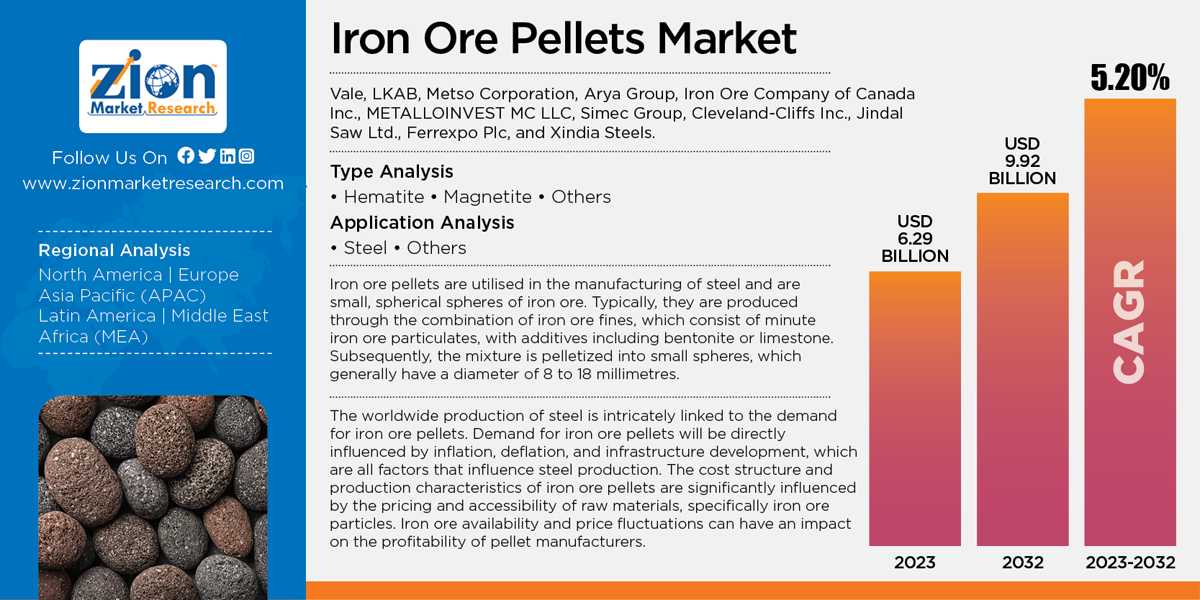 However, the fluctuating prices of raw materials might impede this global market. Nevertheless, the increasing demand for high-grade and high-quality iron ore pellets are likely to fuel the iron ore pellets market globally over the forecast years.
The iron ore pellets market is segmented based on type and application. By type, this market is categorized into hematite, magnetite, and others. In 2017, the hematite segment held the largest market share (around 65%) in the iron ore pellets market. This segment is likely to be the fastest growing during the forecast time period, owing to its high density and cost-effectiveness. Hematite beneficiation generally involves a combination of various beneficiation techniques. Magnetite held the second largest share of the iron ore pellets market, owing to its increasing use in the blast furnace and steel production. By application, this market is segmented into steel and others. The steel segment held the largest share in the market in 2017.
North America was the largest regional market for iron ore pellets in 2017, followed by the Asia Pacific and Europe. This region is projected to hold the highest share in this global market in the forecast years, due to these pellets becoming the single largest source of iron for blast furnaces operating in the North American region. The rise in the demand for steel in the U.S. is likely to enhance the North American iron ore pellets market during the projected time period. The Asia Pacific is projected to be the fastest growing region over the forecast timeline, due to emerging nations, such as India and China, are making significant developments in the construction sector. The construction sector in these countries contribute about 30% of their GDP and is projected to drive the iron ore pellets market over the forecast time period. Europe is anticipated to witness a stagnant growth over the next seven years. The Middle Eastern and African and Latin American markets are projected to grow significantly over the forecast time period.
The key manufacturers operating in the iron ore pellets market include Vale, LKAB, Metso Corporation, Arya Group, Iron Ore Company of Canada Inc., METALLOINVEST MC LLC, Simec Group, Cleveland-Cliffs Inc., Jindal Saw Ltd., Ferrexpo Plc, and Xindia Steels.