Analysis
IoT is transforming the public safety market by providing secure and reliable communication to citizens and responders. As public security and safety is the priority of governments worldwide, they heavily rely on solutions like communication networks, biometric and authentication systems, and surveillance systems, to safeguard the lives of citizens. The rising proclivity toward citizen's public safety and the rising need to reduce fatal incidents at numerous places are propelling the IoT for public safety market. Moreover, the surging concerns based on smart infrastructural development are expected to further fuel the demand for public safety among citizens in the long run. The growing national security coupled with public safety threats and an increasing number of smart city schemes is boosting the need for secure and reliable public safety services and solutions.
Regulatory agencies and government in numerous countries are working on ensuring public safety as a priority and are progressively using IoT-enabled devices. Several technologies are being used to provide extra safety for transportation, buildings, health, and manufacturing sectors. The rising demand for road safety, sensor market, and IoT is expected to support the IoT for public safety market in the future. These technologies help in reducing road accidents, incidents at manufacturing plants, production units, and various chemicals industries. With the help of IoT sensors, the occurrence of these fatal incidents can be minimized to an extent. The increasing demand for IoT-enabled devices like smartphones, smart devices, and other wearable devices are expected to contribute to the IoT for public safety market. However, budget constraints for deploying smart devices may be a restraint for the IoT for public safety market growth in the years ahead.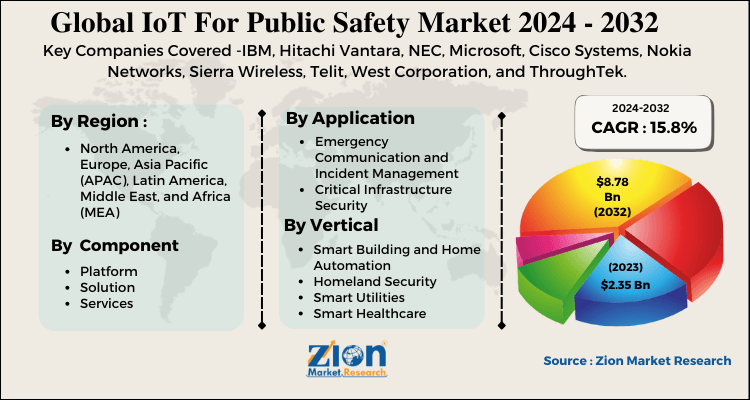 By component, the IoT for public safety market includes solution, services, and platform. System integration under the service segment is one of the vital steps in aiding agencies and other associated organizations to embrace upgraded technologies for ensuring their surroundings are secure and safe. This enables organizations to rework on their operational setups, including surveillance devices to safeguard citizens from natural and physical emergencies. With the help of service providers, organizations will be able to develop a connected environment by incorporating IoT devices and solutions with top-notch IT infrastructure.
The North American IoT for public safety market is anticipated to hold a substantial share over the forecast time period, owing to the technologically advanced infrastructure in North American countries, increasing government spending in IT infrastructure, rising adoption of emerging technologies like smart cities, IoT, and mobility, growing concerns over data privacy.
Some noticeable players of the IoT for public safety market are IBM, Hitachi Vantara, NEC, Microsoft, Cisco Systems, Nokia Networks, Sierra Wireless, Telit, West Corporation, and ThroughTek.