Analysis
Integrated traffic systems are multi-modal transport systems, where modes of transport are linked with each other. The implementation of integrated traffic systems will result in easy movement of automobiles via various modes of transport, like railways, roads, coastal, ports, shipping, civil aviation, and inland water.
The rising demand for road safety of travelers and surging call to cut road traffic are propelling the integrated traffic systems market globally. Owing to the requirement road safety, the increasing concerns for new infrastructural development will also propel the integrated traffic systems market in the future. Moreover, traffic monitoring is a step to recognize traffic patterns to select an optimal solution for the traffic flow. Traffic monitoring consists of numerous functions, such as vehicle detection, journey time measurement systems, and automatic number plate detection, which helps in tracking vehicles and monitoring traffic in real-time. Increasing investments to enhance existing road infrastructure is also anticipated to support the market demand. The increasing demand for safety solutions and services in developing countries is further driving this global market. Rising commuters and increasing traffic jams on roads are other factors contributing to the integrated traffic systems market. Moreover, rising income and improving standards of living have influenced people to possess their own vehicles, which is lead to increased traffic on roads in major cities globally. However, the lack of standardized and uniform technologies for integrated traffic systems might curtail the market in the years ahead.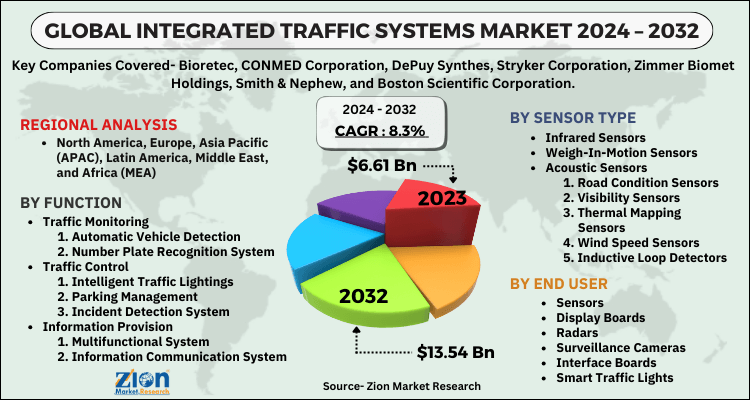 By function, the integrated traffic systems market includes traffic control, traffic monitoring, and information provision. Intelligent traffic lightings, under the traffic control segment, are anticipated to hold a significant market share, owing to the increasing demand for reduced waiting time in traffic jams and rising time constraints to manage personal and professional lives. The intelligent traffic lightings are quite adaptive, as they change traffic waiting time at each junction by understanding traffic patterns and reduce waiting time.
North American countries are likely to grow at a significant rate in the integrated traffic systems market, due to their technologically-advanced infrastructure. The regional governments are spending majorly to enhance their infrastructures like highways, tunnels, roads, and bridges in urban areas, to effectively deal with increased road incidents. Moreover, these governments are changing their existing law enforcement and strategizing to make roads safer for commuters, which, in turn, are supporting the region's integrated traffic systems market growth.
Some noticeable players of the integrated traffic systems market are Cubic, Cisco, Sumitomo, Siemens, Swarco, LG CNS, KapschTrafficCom, Jenoptik, Flir, and Iteris.