Analysis
Industrial valves are used to control the flow of liquids and gases through pipeline. The size of valve specific and is related to the volume of fluids that expected to flow through it. These valves can be operated manually or automatically. The liquids and gases industry is hazardous and any mishap leads to environmental degradation and delay in operations.
The growth of the industrial valves market has been attributed to increasing demand in industries such as oil and gas, wastewater and power among others. Furthermore, expanding industrial infrastructure in emerging markets such as Brazil, India, and China, increasing offshore oil and gas projects, improved safety and reduced operating costs are the major driving factor expected to impact industrial valve market positively. However, a price war among vendors and strict government regulations and policies is expected to pose a challenge to market growth. However, uncertainty in crude oil prices which makes the project economically unstable. This fact may hamper the market growth over years to come. Nonetheless, rising demand of energy from all sectors across the world is expected to open up new growth opportunities in near future.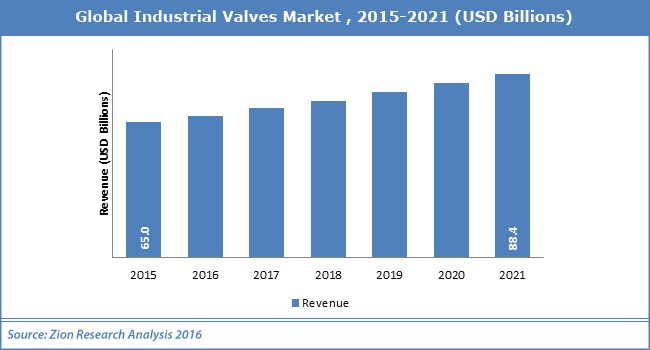 Gate valve, butterfly valve, ball valve, check valve and globe valve are the different types of industrial valves. Ball valves segment registered for over 20% of the revenue share in 2015. Ball valves are primarily used for flow control and situations where tight shut-off is required. In term of application, the market is categorized under oil & gas, chemical, power, water & wastewater, and other application.
Industrial valves market is growing at the rapid pace due to increasing energy demand in the developing countries, such as India and China, of Asia-Pacific region. There are several production projects planned in regions such as West Africa and Brazil. West Africa and Brazil are some of the major regions for offshore oil and gas investments.
Key players profiled in the report include Alfa Laval, Velan Inc., GWC Valve International Inc., Delta Pacific Valves Ltd., Cameron International, Goodwin Plc , Camtech Valves , Pentair Plc. , Neway Valve (Suzhou) Co., Ltd. and Valvitalia S.P.A amongst others.