Analysis
Industrial communication describes the transmission of data between devices for communication. Alternatively, industrial communication integrates different data networks. As technology is advancing, communication plays a vital role in the smooth processing of organizations. Industrial communication aids in interconnecting various isolated systems to automate them. The rapid developments witnessed related to technology are a contributing factor to the industrial communication market growth. Additionally, this technique aids the progress of an organization.
The rising adoption rate of IoT by various industries has generated the need for establishing a link between different devices and exchange data in a safe, secure, and efficient manner. This is driving the global industrial communication market. Furthermore, the rising penetration of IoT applications has led to nominal changes in the way the products are fabricated, delivered, and utilized. AC drivers, water level monitoring sensors, and controllers are some important components of water treatment systems. Industrial communication eases communication in these electronic devices. However, the industrial communication market growth poses a risk to data security. Industrial communication works with real-time information and simultaneously provides data for operational purposes. This uncovers the real-time data received to potential threats, malware, and viruses that can use this data in an unauthorized manner.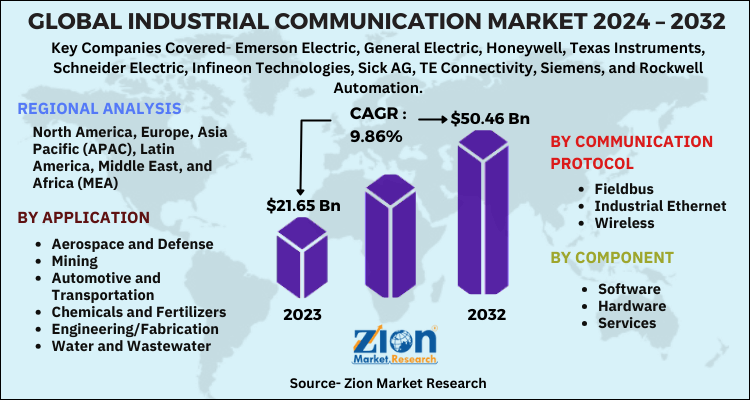 The global industrial communication market is fragmented based on component, communication protocol, and application. By component, the market is divided into hardware, software, and services. On the basis of communication protocol, the market is categorized into industrial ethernet, fieldbus, and wireless. The fieldbus segment will grow rapidly in the future, due to fieldbus' widespread implantation in key process companies. Furthermore, fieldbus aids in the combination of various wireless devices over a network and increases network efficiency. Aerospace and defense, chemicals and fertilizers, mining, water and wastewater, automotive and transportation, engineering/fabrication, and others comprise the application segment of the global industrial communication market.
The Asia Pacific region is the leading producer of consumer goods. Korea, Japan, and India are the developing countries, owing to the expansion in electronic goods production. Thus, the Asia Pacific industrial communication market will be driven by these countries. Currently, North America is leading the industrial communication market globally, due to the high adoption of IoT and various technological advancements. Latin America is witnessing steady growth in the industrial communication market, which has led to an increase in its GDP and employment rate.
Some noticeable players of the global industrial communication market are Emerson Electric, General Electric, Honeywell, Texas Instruments, Schneider Electric, Infineon Technologies, Sick AG, TE Connectivity, Siemens, and Rockwell Automation.