Analysis
In-vitro diagnostics (IVD) is used to identify various types of diseases and infections. In-vitro diagnostics products include reagents, instruments, etc. that are used for the infection analysis. The demand for in-vitro diagnostics (IVD) is on the rise due to the growing occurrences of chronic diseases across the world. As per the Centre for Disease Control and Prevention, around 117 million people suffered from chronic diseases in the U.S. in 2012. Thus, to analyze chronic diseases, sexually transmitted diseases, infectious diseases, oncology, and genetic testing, the number of analytical tests is rising globally. Other factors likely to push the in-vitro diagnostics (IVD) market growth include rising geriatric population, growing incidences of long-lasting lifestyle-related diseases, an increasing number of infectious diseases, escalating alertness of personalized medicine, and the augmenting acceptance of point-of-care analysis. Though, stringent regulatory outlines and insufficient compensation may restrict the global in-vitro diagnostics (IVD) market growth to a certain extent.
The global in-vitro diagnostics (IVD) market is categorized based on the product, technology, application, and end-use. Based on product, the global in-vitro diagnostics (IVD) market is divided into instruments, reagents, and services. Based on technology, the market includes immunology, coagulation, clinical chemistry, microbiology, hematology, molecular diagnostics, and others. By application, the market includes cardiology, infectious disease, autoimmune diseases, diabetes, drug testing, nephrology, oncology, and others. The infectious disease segment is projected to hold the largest market share in the upcoming years, owing to the high incidences of tuberculosis, pneumonia, and HIV/AIDS. The oncology segment is likely to witness the fastest CAGR in the years ahead, owing to the growing demand for POC diagnostics and self-care devices for long-lasting diseases management. Based on end-user, the market includes hospital, laboratory, home care, and others. Hospitals are estimated to dominate globally in the forthcoming years owing to the huge demand for hospitalization of patients.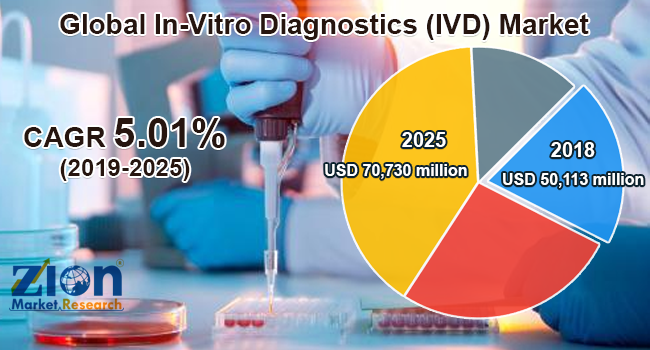 By region, North America will be the fastest growing region in the global in-vitro diagnostics (IVD) market in the future. Promising government rules, huge healthcare spending, and the presence of renowned key players operating in the market are some significant factors for this regional market's development. Asia Pacific is predicted to witness the fastest progress rate over the estimated time period, owing to the huge unmet clinical requirements and improving healthcare structure across the region.
Some key players of the global in-vitro diagnostics (IVD) market are Alere, bioMerieux SA, Becton, Dickinson, and Company, F. Hoffmann-La Roche Ltd., Siemens Healthineers, Qiagen, Hologic, Inc. (Gen-Probe), Abbott, Danaher, Sysmex Corporation, and Cepheid.