Analysis
Immuno-oncology deals with investigating the body's immune system in response to cancer cells. Immuno-oncology assays are in-vitro assays that are used to study a drug's or compound's response in a tumor's microenvironment. Critical information is obtained with optimized cell-based assays to validate the efficacy of a drug/compound. Immuno oncology assays play an important role in clinical diagnostics of cancer and drug discovery applications.
The worldwide demand for immunology-based oncology assays is growing swiftly, owing to the increasing cancer prevalence, rising acceptance of targeted therapy, and growing demand for monoclonal antibodies (mAb). Additionally, the rising levels of cancer awareness and the increasing number of government initiatives and funding for early cancer diagnosis research are propelling the immuno oncology assays market growth. However, huge capital investments and high immunotherapy treatment cost may restrain the immuno oncology assays market development. Replacement of chemotherapy with immunotherapy as the first line of therapy and emerging markets may bring new opportunities in the immuno oncology assays market in the future.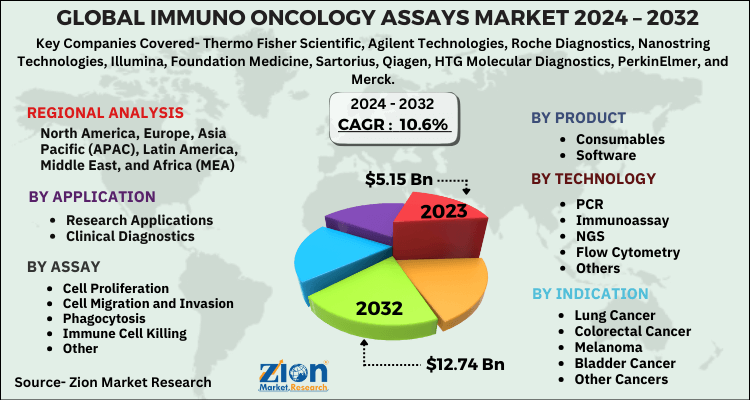 The global immuno oncology assays market is fragmented based on product, assay, technology, indication, and application. By product, the market includes consumables (reagents and kits, various accessories, etc.) and software. By assay, the market includes cell migration and invasion, cell proliferation, immune cell killing, phagocytosis, and others. Based on technology, the market includes polymerase chain reaction (PCR), immunoassay, flow cytometry, next-generation sequencing (NGS), and others. Based on indication, the market includes colorectal cancer, lung cancer, bladder cancer, melanoma, and other cancers. By application, global immuno oncology assays market is segmented into research applications and clinical diagnostics.
North America dominated the global immuno oncology assays market with a revenue share of almost 40% in 2018. This huge revenue share is accredited to the increasing prevalence of cancer, the presence of advanced healthcare infrastructure, and rising adoption of targeted therapy. North America is estimated to remain at the top market position over the forecast time period as well, owing to the increasing public and private funding for various R&D activities. Europe contributed the second largest revenue share in 2018 to the global immuno oncology assays market, due to rising cancer burden, growing adoption of technologically advanced products, and increasing healthcare spending. The Asia Pacific immuno oncology assays market will register the highest CAGR in the years ahead, owing to the increasing aging population base, rising cancer prevalence, and ongoing cancer therapy clinical trials.
Some major players operating in the global immuno oncology assays market include Thermo Fisher Scientific, Agilent Technologies, Roche Diagnostics, Nanostring Technologies, Illumina, Foundation Medicine, Sartorius, Qiagen, HTG Molecular Diagnostics, PerkinElmer, and Merck.