Free Analysis
Hydro turbines are utilized in hydroelectric generation plants for electricity generation. Mainly, water is used for electricity generation. The hydraulic turbines spin or rotate as a reaction to water being introduced to the turbine blades. Hydraulic turbines are vital in the field of hydropower electricity generation. The hydraulic turbine is a major agent that utilizes the energy of flowing water and converts it into electricity. In simple words, hydraulic turbines use water as raw material and convert it into mechanical energy.
The global hydraulic turbines market is likely to experience notable growth in the future, owing to the high demand for renewable forms of energy. Due to stringent government rules and regulations regarding carbon emissions, the demand for renewable energy is gradually increasing. Electricity generation from hydraulic turbines is a renewable and sustainable energy form, which is primarily driving this market's development in the present scenario. Furthermore, the rising electricity demand by the growing population is also projected to escalate global hydraulic turbines market growth. In order to cater to the growing electricity demand, various organizations and key players are gradually switching from coal to renewable energy sources for electricity generation. This, in turn, is estimated to drive the hydraulic turbine market in the upcoming years globally. Hydraulic turbines are manufactured for proficient energy production by using feasible energy sources, which is contributing to the global hydraulic turbines market. However, high maintenance costs of hydraulic turbines may hinder the market development over the forthcoming years.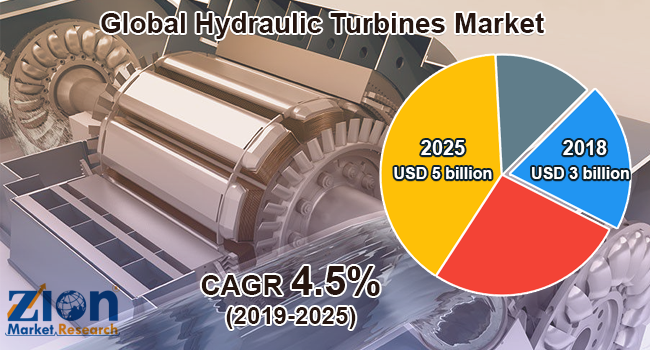 Based on design, the global hydraulic turbines market is segmented into impulse turbine and reaction turbine. On the basis of capacity, the market is categorized into less than 1000 kW, between 1000 kW to 10000 kW and more than 10000 kW. On the basis of application, the market is bifurcated into marine, oil and gas, power generation and storage, and others.
North America holds an extensive market share of the global hydraulic turbines market, owing to the rising adoption rate of renewable energy resources due to favorable government policies. The scarcity of non-renewable energy resources has forced several regulatory organizations and civic bodies to start adopting renewable energy resources, which is the primary growth factor for this regional market. Moreover, stringent regulations regarding carbon emissions and rising air pollution are projected to further drive the region's adoption rate of renewable energy resources. Europe is expected to show modest development in the global hydraulic turbines market. The region's electricity generation scenario is changing significantly. The EU's integrated energy and climate change policy sets the ambitious target of producing 25% of its energy from renewable sources by 2025.
Some key industry players operating in the global hydraulic turbines market include International Aero Engines, GE Energy, Vestas Wind Systems A/S, Urban Green Energy, Siemens Wind Power, Suzlon Energy Limited, and Enercon GmbH.