Analysis
Switchgears are equipment used for regulating, controlling, and switching on or off electrical circuits in a power system. Switchgears are directly connected to the supply system. These switches ars are found in both low and high voltage sides of power transformers. These are normally used for de-energizing the electric equipment for maintenance and testing purposes along with clearing the fault.
Increasing government initiatives for re-establishment of grid modernization and current distribution and transmission networks are anticipated to drive the popularity of high voltage switchgear. Furthermore, more than 50% of the electricity is generated by burning coal, which is the primary cause of global warming. Therefore, stringent government regulations to use renewable energy sources and up-gradation of currently operating fossil fuel power stations are anticipated to propel the demand for high-voltage switchgear across the globe. Moreover, improved protection of secondary equipment and lesser interruptions in the electric supply make high voltage switchgear popular in the power industry. However, the production of fake switchgear might hinder the development of the global high voltage switchgear market.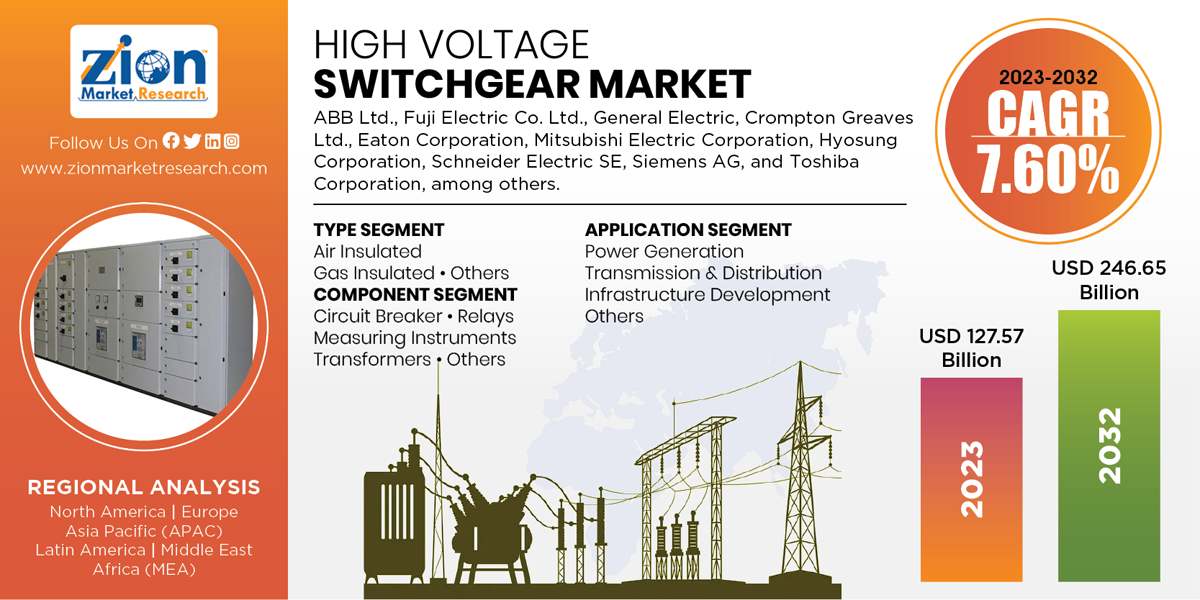 The high voltage switchgear market can be classified based on type, component, and application. By type, the global high voltage switchgear market is divided into air insulated, gas insulated, and others. By component, this market is divided into a circuit breaker, relays, measuring instruments, transformers, and others. By application, this market included power generation, transmission and distribution, infrastructure development, and others.
The high voltage switchgear market is analyzed across five regions—North America, Europe, Asia Pacific, Latin America, and the Middle East and Africa. The Asia Pacific is projected to register the highest growth rate in the global high voltage switchgear market. Several energy companies in the Asia Pacific region have shifted their focus toward joint ventures and acquisitions. These companies are looking forward to tapping the significant opportunities related to the expansion of transmission and distribution and renewable integration projects, which is primarily contributing toward the expansion of the high voltage switchgear market in this region. Furthermore, due to the sizable expansion of installed capacity base in this region, there are ample growth opportunities in the renewable energy projects, which, in turn, is likely to escalate the demand for high voltage switchgear in the Asia Pacific. Moreover, growing implementation of smart city projects in Singapore and Japan is anticipated to fuel the high voltage switchgear market across the region.
The key players profiled in the global high voltage switchgear market report are ABB Ltd., Fuji Electric Co. Ltd., Eaton Corporation, Mitsubishi Electric Corporation, Crompton Greaves Ltd., Hyosung Corporation, Siemens AG, Schneider Electric SE, Toshiba Corporation, and General Electric, among others.