Analysis
Hemp is a kind of the cannabis sativa plant species that is grown precisely for industrial use. The hemp juice is extracted from the upper part and the leaves of the hemp plant. The hemp plant is grown for its several nutritional and healing properties. Most of the manufacturers engaged in the manufacturing process of hemp juice are using specialized low-speed juicers for juice extraction. The low-speed juicers preserve the plant's cellular structure, which, in turn, reduces the oxidation and thus preserves the plant's precious enzymes and nutrients. All the nutrients of the hemp plant can be preserved through these modern juicing techniques. Hemp juice consumption positively affects one's health, owing to its functional nature. It consists of a wide range of essential nutrients along with a high amount of cannabidiol acid, which is an important amino acid consisting of strong anti-oxidants that helps to improve and restore a healthy balance in the human body. Hemp juice is basically used as a healthy and refreshing beverage and is used to make unique and appealing dishes. Hemp juice consumption does not cause any side effects. These hemp juice benefits are expected to drive the hemp juice market growth over the forecasted time period.
Increasing levels of stress and growing speed of modern life have led the human body to need more revitalization and energy, which is expected to drive the global hemp juice market growth over the forecast timeframe. Hemp juice improves one's well-being that is expected to positively impact the market growth in the upcoming years. Other hemp juice benefits include stronger immune system, owing to the presence of anti-oxidants, increased energy levels, and enhanced overall health. This is expected to further drive the hemp juice market in the years ahead.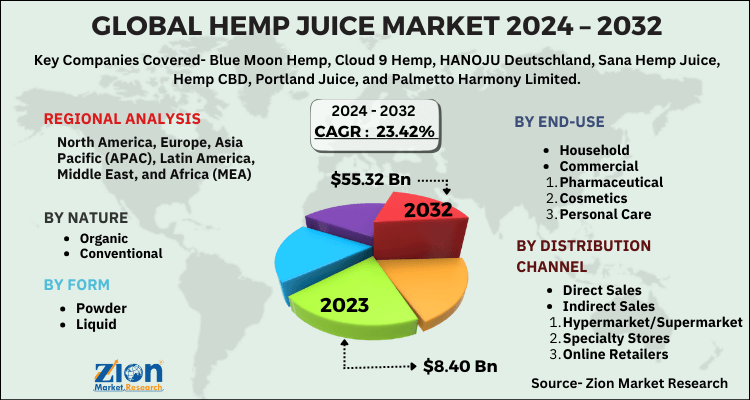 Based on nature, the hemp juice market includes organic and conventional. Based on form, the market is bifurcated into powder and liquid. By end-use, the market is fragmented into household and commercial (pharmaceutical, cosmetics, personal care, and others). The distribution channel segment of the hemp juice market is categorized into direct sales and indirect sales. The indirect sales segment further includes hypermarket/supermarket, specialty stores, online retailers, and others.
In 2018, North America accounted for a significant share of the global hemp juice market. This regional growth can be attributed to the increasing purchase of hemp juice and rising health-conscious population base. Asia Pacific is predicted to register the highest CAGR over the forecast time period, owing to the rising popularity of hemp juice health benefits across the region.
Some major players operating in the global hemp juice market include Blue Moon Hemp, Cloud 9 Hemp, HANOJU Deutschland, Sana Hemp Juice, Hemp CBD, Portland Juice, and Palmetto Harmony Limited.