Analysis
A heat pump is a device used to pump or move heat from one place to another with the help of electricity. A heat pump comprises an expansion valve, a condenser, an evaporator, and a compressor. Heat pumps are considered to be an integral part of refrigeration systems. A heat pump system reduces carbon emissions and has an efficient conversion rate of energy to heat.
The global heat pumps market is projected to grow rapidly over the next few years, owing to growing urbanization in the developing countries across the globe. Heat pumps are largely used in the refrigeration equipment for residential and commercial applications. Moreover, the rising number of residential construction activities in emerging countries like China, India, Indonesia, and Brazil is further projected to enhance the application of heat pumps. Additionally, the use of heat pumps is increasing rapidly due to the regulations directed by the government toward energy efficiency. However, the cost required for the installation of these heat pumps is extremely high, which may negatively impact the market growth in the upcoming years. Nevertheless, the surging trend of integration of IoT with heat pumps is anticipated to offer new growth opportunities for the market in the future.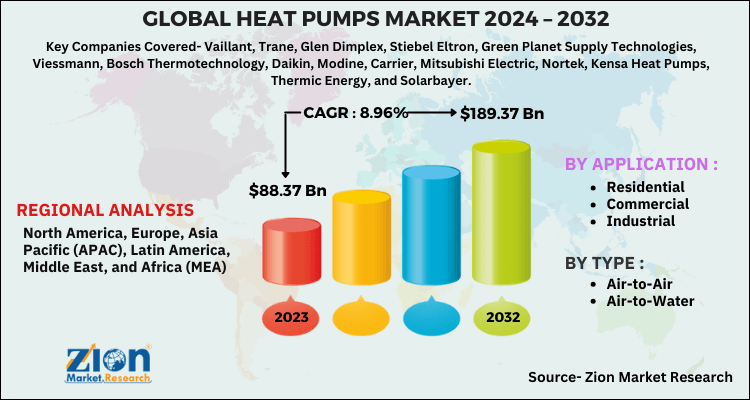 The global heat pumps market is classified based on type and application. Based on type, the global heat pumps market includes air-to-air and air-to-water. The air-to-air segment is expected to dominate throughout the forecast time period, as an air-to-air heat pump requires limited space and is cost-effective in nature. Additionally, these heat pumps help in minimizing GHG emissions by up to 40%. Based on application, the market includes residential, commercial, and industrial. The residential segment is projected to grow at the highest growth rate in the next few years. The growing residential construction activities in the developing countries of the Asia Pacific and Latin America regions are increasing the application of heat pumps in the HVAC.
In 2018, the Asia Pacific region contributed the largest share to the global heat pumps market and is estimated to continue its dominance over the forecast period as well. The surging construction activities coupled with a rising population are projected to drive the Asia Pacific heat pumps market in the future. Europe and North America are predicted to grow considerably in the upcoming years, due to the flourishing number of commercial construction activities in these regions.
Some key manufacturers of global heat pumps market are Vaillant, Trane, Glen Dimplex, Stiebel Eltron, Green Planet Supply Technologies, Viessmann, Bosch Thermotechnology, Daikin, Modine, Carrier, Mitsubishi Electric, Nortek, Kensa Heat Pumps, Thermic Energy, and Solarbayer.