Analysis
In mammals, four heart valves are there (mitral valve, tricuspid valve, aortic valve, and pulmonary valve) which responsible for keep blood flow in right direction. Sometimes, one or more of the valves don't open or close properly. This results in the blood flow through your heart to your body to be disrupted. It's called as heart valve disease, and treatment of heart valve disease depends on the heart valve affected and the type and severity of the valve disease. Heart valve disease may require surgery to repair or replace the heart valve. Regurgitation, stenosis, and atresia are basic problems related to the heart valve. Heart valve disease can be present at birth, or it can also occur in adults due to many causes and conditions, such as infections and other heart conditions. Factors which can increase the risk of heart valve disease are older age, history of certain infections that can affect the heart, certain forms of heart disease or heart attack, high blood pressure, high cholesterol, diabetes and other heart disease risk factors, and heart conditions present at birth (congenital heart disease).
Increasing sedentary lifestyle triggering the rate of obesity and growing various cardiac diseases and pathological disorders are some of the major drivers of Heart Valve Devices Market. According to Heart Valve Society of America, more than 5 million Americans are suffering from heart valve disease. Many people left undiagnosed and untreated, as their condition can cause a progressive deterioration in heart function, which can result in heart failure and premature death. Symptoms of heart valve diseases are shortness of breath and/or difficulty catching your breath, discomfort in your chest, weakness, irregular heartbeat, swelling of your ankles, feet or abdomen and rapid weight gain. This symptom may occur or may not in some people; it slowly develops and worsens over time which may cause the death of a person. However, complex regulatory procedures and the high price of devices and procedure may hamper the growth of the heart valve devices market. However, growth in transcatheter heart valves and demand for heart valve devices in the Asia Pacific region may create a significant opportunity for heart valve devices market in the coming years.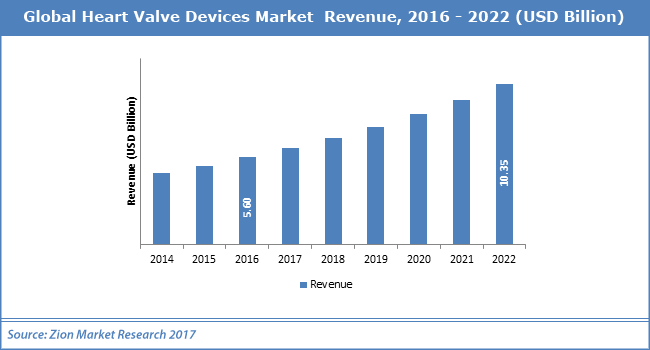 The Heart Valve Devices Market is classified based on procedure, end-user, and region. On the basis of procedure, the market is divided into heart valve replacement devices and heart valve repair devices. Heart valve replacement devices are further sub-segmented on the basis of techniques as a mechanical valve, Bioprosthetic valve and TAVR (Transcatheter Aortic Valve Replacement). Heart valve replacement devices are further sub-segmented on the basis of the position where they are replaced as mitral valve replacement devices, aortic valve replacement devices, and other position heart valve replacement devices. Heart valve repair devices are further sub-segmented on the basis of techniques as surgical valve repair devices, balloon valvuloplasty devices and TMVR (Transcatheter Mitral Valve Repair). Due to the escalating use of technologically superior products, more than average selling prices, and considerably lower mortality rate achieved by the devices, the transcatheter heart valve devices accounts for maximum share in the market. On the basis of the end-user market is divided into hospitals and ambulatory surgical centers.
By geography, North America dominates the Heart Valve Devices Market owing rising usage of technologically superior products in this region. Other major driving factors in the North America region is increasing rate of obesity and prevalence of cardiac diseases in this region. Additionally, the presence of major market players, such as Boston Scientific Corporation, Abbott, and Medtronic, in the U.S. is anticipated to contribute significantly to the revenue generation of the country. Europe is also a major market for heart valve devices market due to supportive policies of the government, number of product launches, and a large pool of elderly highly susceptible to various heart diseases.
In Asia Pacific region due to the high prevalence of heart valve diseases and developing healthcare, infrastructure creates significant opportunity in the near future. The Middle East and Africa are anticipated to witness significant growth during the forecast period.
Some of the key players in Heart Valve Devices Market include Abbott, Medtronic, CryoLife, Inc., Boston Scientific Corporation, Micro Interventional Devices, Inc., Neovasc, Inc., Edward Lifesciences Corporation, Sorin Group, TTK HealthCare, JenaValve Technology, Inc., and Lepu Medical Technology Co., Ltd. among others.