Analysis
HD voice system is the use of wideband technology to give better audio experience and enhance clarity in voice over internet protocol communication.
The HD voice market is gaining popularity among corporates, enterprises, and individual customers, owing to its various advantages. Several companies are now focusing on integrating HD voice technology in their system/network to remain competitive in the market and keep them at par with the latest technologies. The technology demand is growing not only among multinational companies, small to medium enterprises, and large enterprises but also among the individual customers. Moreover, the rising demand for technological developments in the IT and telecommunication sector is also driving the HD voice market. Additionally, advanced telecommunication technologies are facilitating enhanced features, such as voice provision, advanced video, and screen sharing. Furthermore, the growing adoption of new technologies, especially internet protocol, is also boosting the HD voice market growth. However, the limited accessibility and connectivity of the HD voice technology may curtail the global HD voice market growth over the forecast time period.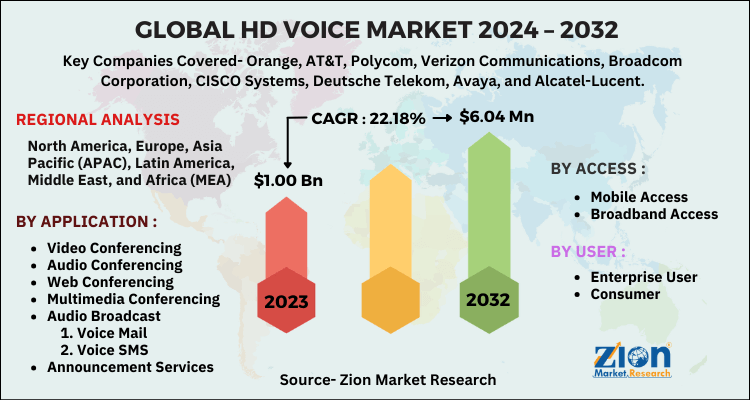 The global HD voice market is fragmented based on application, access, and user. By application, the market includes web conferencing, video conferencing, announcement services, audio broadcast, and multimedia conferencing. The demand for multimedia conferencing, audio conferencing, and audio broadcast are anticipated to hold substantial shares over the projected time period. This can be attributed to the rising demand for the above-mentioned applications across various enterprises, companies, and customers. The access segment of the market for HD voice is categorized into broadband and mobile access types. The user segment of the HD voice market comprises consumer and enterprise user.
North America is predicted to hold a considerable share of the global HD voice market, owing to the growing popularity of softphone technology among the regional enterprises. The developing electronic industry and the rising need for a technical revolution in the telecom sector are further fueling the North American market. Moreover, the rising demand for 5G-enabled smartphones and growing focus of companies on enhancing their services by adopting HD voice technology to stay in the market is also supporting this regional market's growth. Additionally, the advanced functions of 5G cellular technology, such as greater capacity-optimized support for IoT, low latency to support improved mobile broadband, and enhanced communication, will further drive this market over the anticipated time period.
Some noticeable players of the HD voice market are Orange, AT&T, Polycom, Verizon Communications, Broadcom Corporation, CISCO Systems, Deutsche Telekom, Avaya, and Alcatel-Lucent.