Analysis
The term "hazardous area sensors" refers to the sensors developed for use in prospectively explosive areas. The elevating value for "intrinsic safety" across various industries is fueling the hazardous area sensors market. Intrinsic safety is a technique used for the secured operation of electrical equipment in hazardous areas by limiting the availability of elements for ignition and, in turn, energy. These sensors are used in areas with a high concentration of flammable gases or dust.
Various sectors, such as mines and refineries, use certain combustible gases and vapors in their operations. Intrinsic safety ensures that none of the equipment emits energy that can cause explosions. The importance of intrinsic safety in various industries is one of the major growth drivers of the hazardous area sensors market globally. However, the global economic slowdown can have an adverse effect on the hazardous area sensors market growth. Furthermore, governments across the globe are imposing strict rules and regulations for industrial safety, which are anticipated to open new growth avenues for the hazardous area sensors market over the upcoming years. The global governments have also assigned and compelled the users of hazardous equipment to adhere to certain policies and legislations related to safety. These standards are likely to offer a significant push to the global hazardous area sensors market. Moreover, the flourishing shale gas industry is also estimated to accelerate the demand for hazardous area sensors globally. The extensive use of cable glands for various processes and equipment in hazardous areas is presumed to drive the hazardous area sensors market in the years ahead.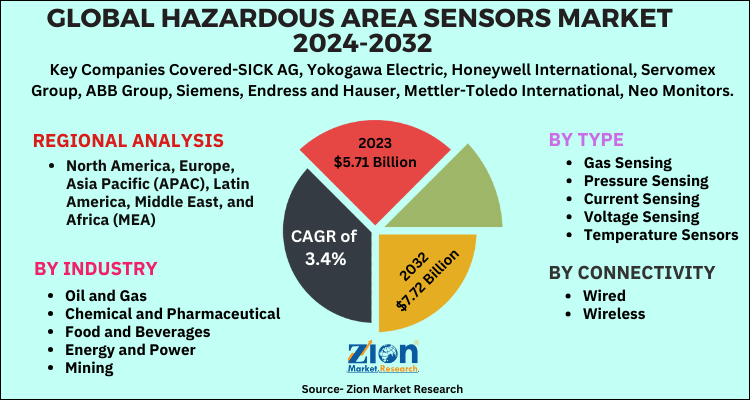 Based on industry, the hazardous area sensors market for oil and gas industry is expected to grow significantly over the forthcoming years, owing to the presence of flammable and explosive oils and gases in refineries. The presence of these explosive substances in industrial plants is leading various industries to upgrade their safety techniques.
In Europe, the UK and Germany are anticipated to hold substantial shares of the hazardous area sensors market over the forecast timeline, owing to the presence of various market players like Siemens, SICK AG, and Servomex Group, etc. This regional market is expected to grow further in the future, owing to the increasing security concerns that are projected through the launch of Hall sensors in PCIM trade fair by Infineon Technologies, a German-based company.
Some noticeable players of the hazardous area sensors market are SICK AG, Yokogawa Electric, Honeywell International, Servomex Group, ABB Group, Siemens, Endress and Hauser, Mettler-Toledo International, Neo Monitors, and Eaton Corporation.