Analysis
Gout is a type of disease caused by frequent occurrences of acute inflammatory arthritis. The symptoms of this disease include red and itchy skin, swollen joints, and limited movement of the affected body parts. Additionally, due to uric acid crystallization and its deposit in tendons adjacent tissues and joints also leads to gout attack. The human body produces some amount of uric acid when it is broken down into purines. It is caused due to a combination of diet and genetic factor. Usually, a person who consumes large amounts of beer and meat shows or gets affected by the symptoms related to this disease.
Due to changing lifestyle, there has been a rise in the prevalence of gout across the globe that has boosted the gout therapeutics market growth. Rising consumption of alcohol, purine-rich diet, growing kidney diseases and obesity worldwide, and rising consumption of certain type of medication like the diuretics are likely to further boost gout incidence. Moreover, the growing adoption of biologics due to their ability to produce powerful anti-inflammatory action will also contribute to the gout therapeutics market in the future. Various drugs in clinical trials currently are expected to be launched over the forecast period, which will further propel this market. Additionally, new product launches and progressive collaboration between leading companies will positively impact this market. However, patent expiry and strict regulations of various drugs may hinder the gout therapeutics market on a global scale.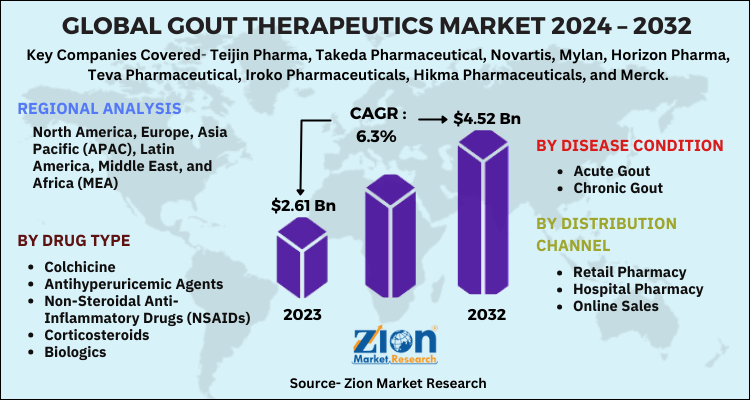 The gout therapeutics market is fragmented based on drug type, disease condition, and distribution channel. On the basis of drug type, the market includes antihyperuricemic agents, colchicine, non-steroidal anti-inflammatory drugs, corticosteroids, and biologics. On the basis of disease condition, the gout therapeutics market is bifurcated into acute gout and chronic gout. By distribution channel, the market comprises hospital pharmacy, online sales, and retail pharmacy.
Europe and North America are leading regions that dominate the gout therapeutics market globally, due to the enhanced pharmaceutical research in these areas. North America is among the leading players in the market for gout therapeutics, due to a rising geriatric population base along with modernized routine disorders. Additionally, the U.S. holds the largest share for gout therapeutics market across entire North America. The Asia Pacific region is likely to witness the highest rate of growth over the forecast period in the gout therapeutics market, owing to the rising regional awareness about the disease.
Some key players in the global gout therapeutics market include Teijin Pharma, Takeda Pharmaceutical, Novartis, Mylan, Horizon Pharma, Teva Pharmaceutical, Iroko Pharmaceuticals, Hikma Pharmaceuticals, and Merck.