Free Analysis
Glyphosate has herbicide properties which are used to destroy or control the unwanted plants present in the agricultural lands. It is used as non-selective herbicides, i.e., total weed killers. It can find a broad spectrum of applications such as to clear waste ground, railway embankments, industrial and construction sites, etc. Glyphosate is one of the most preferred herbicides among farmers. The prime use of glyphosate in the U.S. is done in agriculture and then in home and garden. Moreover, growing demand for glyphosate especially for agricultural purposes across the globe is likely to witness a significant growth over the upcoming years.
The global glyphosate market is primarily driven by growing demand for glyphosate in agricultural applications across the globe. Secondly, growing demand for genetically modified (GM) crops is expected to propel the market size of glyphosate over the coming years. However, stringent rules and regulations on the usage of glyphosate may impede the growth of the market. Nonetheless, immense demand for genetically modified crops especially in emerging countries such as India and China is likely to spur the profit margin of the major players in the glyphosate market during the forthcoming years.
Based on diverse applications, the global glyphosate market is segmented into conventional crops and genetically modified crop applications. Among these two, the conventional crop application segment was leading the global glyphosate market in 2017. However, in order to achieve good yield, the growth of the unwanted weeds and plants in the field should be reduced. Hence, there is a great demand for glyphosate herbicide before sowing the crops. Moreover, genetically modified crops segment is projected to be the fastest growing application within the forecast period owing to the surging adoption rate of GM crops in developing countries such as China, India, and Brazil.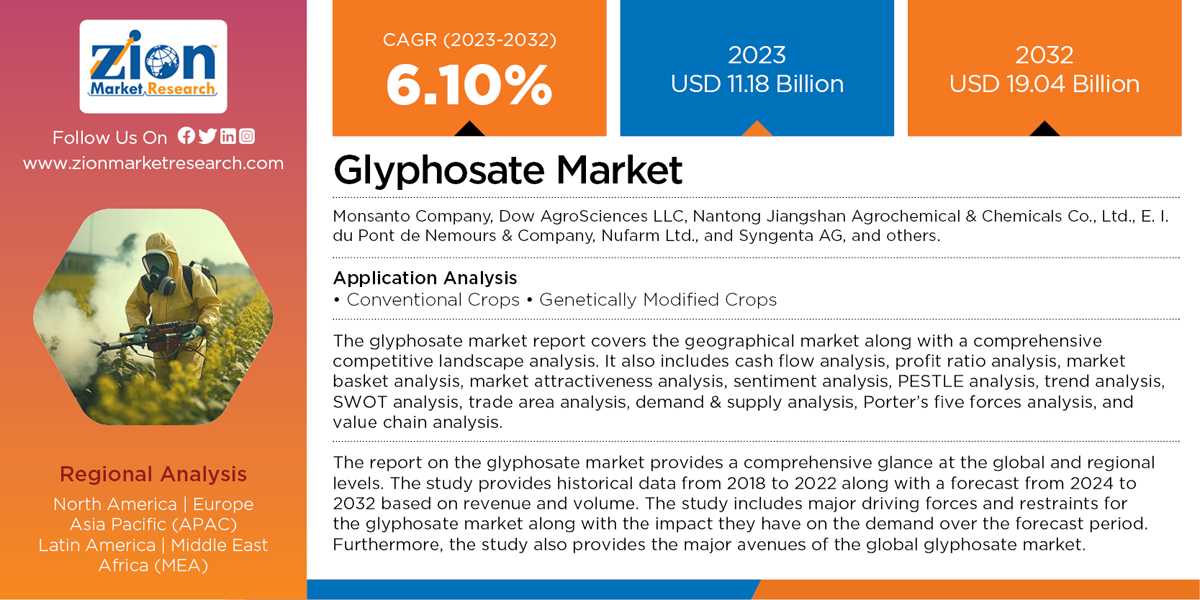 In terms of geographies, Asia Pacific was the largest market for glyphosate in 2017. Surging demand for glyphosate for agricultural purposes is likely to bolster the market growth in the region over the years to come. The Asia Pacific was followed by North America and Europe in the same year. Surging penetration of genetically modified crops is expected to boost the demand for glyphosate globally in the near future. Moreover, Asia Pacific is expected to be the fastest growing market of glyphosate within the forecast period owing to the availability of arable land in countries such as China, India, Korea, Thailand, etc. On the other hand, China is a major consumer and producer of glyphosate in the region and is expected to grow at a significant CAGR within the forecast period.
Some of the major players in the global glyphosate market include Monsanto Company, Dow AgroSciences LLC, Nantong Jiangshan Agrochemical & Chemicals Co., Ltd., E. I. du Pont de Nemours & Company, Nufarm Ltd., Syngenta AG, BASF, Bayer, Monsanto, Zhejiang Xinan Chemical Industrial Group Company, SinoHarvest, and Anhui Huaxing Chemical Industry Company, among others.