Analysis
Geo-marketing is basically marketing integrated with location intelligence to enhance the chances of a peculiar message to be delivered to the right customer at the right time. This can be done in multiple ways, but the typical factor is the location data that is being used as a marketing effort component. One of the basic forms of geo-marketing is geo-targeting, which simply means taking into consideration the previous locations a customer has visited to deliver content to him/her. Data analysis through the geographic location is performed by marketers with the assistance of a digital map. Large organizations maintaining a huge database can use the collected data about their customers, such as location, email, and name via transaction history, subscriptions, and sales leads, and apply it on a digital map.
The global geo-marketing market is expected to grow notably, owing to the growing demand for location-based intelligence that leads to a magnified business payoff. Location analytics, data warehousing, and data mining provide intensive and varied data regarding probable markets and potential customers. Organizations are increasingly investing in digital marketing as compared to traditional marketing practices. However, the growing use of computers and the emergence of information technology are also increasing the number of cyber-attacks, which, in turn, is putting a risk on users' privacy. This is a major geo-marketing market restraint along with legal concerns. Alternatively, with proper legal processes and privacy measures, these market restraints can be tackled accordingly.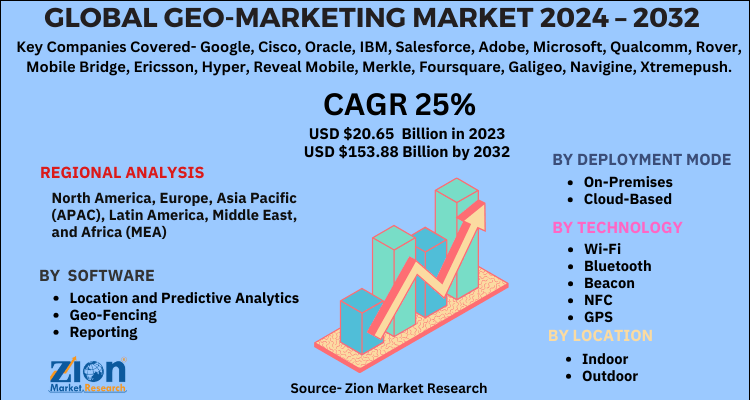 The outdoor location segment has high growth potential, owing to stores being able to create a virtual perimeter to attract customers by sending push-notifications and offering a variety of options. This is an effective way to gain business from a target location. The cloud-based deployment mode shows significant growth potential, as it offers better security, increased storage capacity, and reduced set-up costs in comparison to on-premises mode. It is also an effective way of training and development of employees when organizations are striving to reduce their operational costs.
North America leads the global geo-marketing market, owing to its rapidly flourishing education sector. The U.S. and Canada lead the regional market due to growing technological advancements, increasing R&D investments, and rising financial assistance from the government. Moreover, the U.S. also facilitates rapid developments for a lot of startups and investments in the education sector, by implementing advanced technology in its esteemed universities. The Asia Pacific geo-marketing market is expected to be the fastest growing region globally in the future, owing to the rapidly growing economies of India and China and rising investments witnessed in the region's IT and retail sectors.
The prominent players in the global geo-marketing market are Google, Cisco, Oracle, IBM, Salesforce, Adobe, Microsoft, Qualcomm, Rover, Mobile Bridge, Ericsson, Hyper, Reveal Mobile, Merkle, Foursquare, Galigeo, Navigine, Xtremepush, and LocationGuru.