Analysis
Gene expression is the method to extract information from a genetic material that can be exploited for the assembly of a functional gene product. With the help of gene expression, the genetic code on a DNA can be studied. The physiognomies of the expression can determine the phenotype of a bacterium. Gene sequencing also supports the understanding of pathogenesis, i.e., the procedure of how a cell is affected by an illness. The genome-wide-ranging research can be used to study different diseases, which has led to its enhanced use in several applications, such as biomarkers, pharmacogenomics, diagnostics, and toxicology.
The major factors contributing to the progress of the global gene expression analysis market are increasing number of cancer patients, upsurge in funding, decreasing expenses of sequencing, strong focus on research and development, and rising preference for bespoke medicines. However, the enormous cost of significant gene expression analysis tools may hamper the growth of the global gene expression analysis market in the future. Nonetheless, the emerging markets are likely to offer new growth avenues to the major players of the gene expression analysis market in the upcoming years.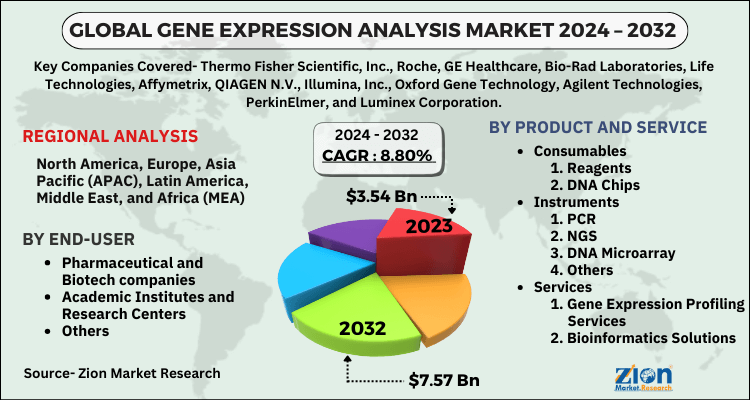 The gene expression analysis market is divided on the basis of product and service and end-user. Based on product and service, the global gene expression analysis market is categorized into consumables, instruments, and services. Consumables include reagents and DNA chips. The instruments segment includes PCR, NGS, DNA microarray, and others. The services segment includes gene expression profiling services and bioinformatics solutions. The consumables segment is anticipated to attain the largest market share in the future, due to the declining sequencing prices leading to the augmented acceptance of sequencing and other gene expression analysis methods. Based on end-user, the market is classified into academic institutes and research centers, pharmaceutical and biotech companies, and others. Pharmaceutical and biotech companies are estimated to be the leading segment in the global market over the forecast period. This growth can be accredited to vast research studies containing gene expression analysis and huge investments for end analysis instruments and consumables.
By region, North America is projected to lead the global gene expression analysis market in the future. The Asia Pacific gene expression analysis market is anticipated to attain the highest CAGR over the years to come, owing to the growing number of western partnerships to expand the region's healthcare sector, government attention on cancer and additional life science research, internal manufacturing of the sequencing systems, huge R&D investments, and thriving bioresearch centers.
Some key players of the global gene expression analysis market are Thermo Fisher Scientific, Inc., Roche, GE Healthcare, Bio-Rad Laboratories, Life Technologies, Affymetrix, QIAGEN N.V., Illumina, Inc., Oxford Gene Technology, Agilent Technologies, PerkinElmer, and Luminex Corporation.