Free Analysis
Turbines are the mechanical devices that take out energy from a variety of sources such as water, steam, and gas and transfer it into useful energy. A gas turbine also referred as a combustion turbine, is a type of inner combustion engine. Turbines are utilized for electricity generation from the different sources of energies, such as tidal and wind energy. Furthermore, turbines are used in aircraft's engines. The first practical gas turbine used to generate electricity ran at Neuchatel, Switzerland in 1939 and was developed by the Brown Boveri Company. Gas turbines are an important part of distributed power technologies product group along with diesel and small wind turbines, solar panels, and gas reciprocating engines.
A key growth driver for gas turbine market is the increasing ability and durability of gas turbines. The rising efficiency of gas turbines is anticipated to the growth of the market in 2015. A strict carbon emission regulation across the globe is expected to fuel the gas turbines market in forthcoming years. The advancement in technology coupled with lower power generating cost and high performance of gas turbines are the key factors associated with the development of gas turbines market.Gas turbines are a highly important part of distributed power technologies product. Hence, development of distributed power systems can be transformed to an enhanced demand for gas turbines during the upcoming years.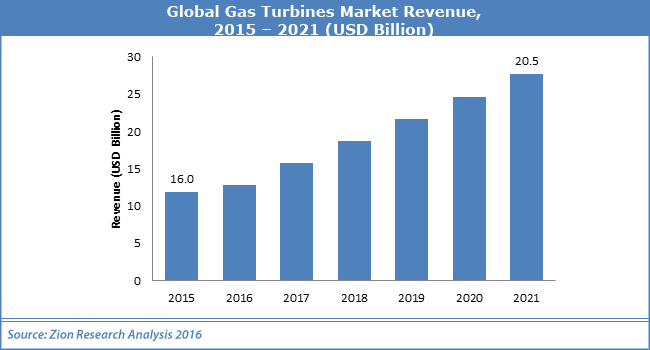 Gas turbines market is segmented on the basis of design type, application, rated capacity and geography. On the basis of design type turbines, the market is segmented into heavy duty type and aero-derivative type gas turbines. By Application, the turbines market is segmented into oil & gas, power generation, and other industries. On the basis of rated capacity turbines are segmented into 1 to 40 MW, 40 to 120 MW, 120 to 300 MW, and above 300 MW. Above 300 MW rated capacity gas turbines has been emerged as potential segments due to rising demand worldwide and acquired a significant share of the overall market in 2015. On the basis of technology, the market is segmented into open cycle and closed cycle gas turbines. A combined cycle technology expected to be the dominant technology in global gas turbines market in the forecast period.
Global gas turbines market is expected to grow steadily in future. Asia Pacific dominated the gas turbines market in 2015, followed by North America and Europe. The biggest share of Asia Pacific region can be attributed to various factors such as rapid economic growth, industrialization, and the vast requirement for electric power from various countries in this region. Japan accounted for the largest share in gas turbines market in 2015.Latin America represents a region with a large potential for gas turbines market.
Companies in this industry are continuously striving for distinct and innovative ways to improve their market share and sales. Some of the well-established players in this market include Siemens AG, Alstom S.A, Bharat Heavy Electricals Limited, Mitsubishi Hitachi Power Systems, General Electric Company, AnsaldoEnergia S.P.A and among others.